8 December 1997, Huntly Speedway


NEWSLETTER
Issue Number: 6
Well,
Has summer finally arrived???
Was that the sun we saw last weekend???
Did any of you get sunburnt???
Being Christmas and all, a minor miracle happened. I followed a bright light in the sky to Bethlehem (Judea actually, but Bethlehem sounded better for the story) where I acquired a new bonnet.
After some minor/major repairs and the fitting of the new bonnet, we were off racing on Saturday night.
YES!!!! FINALLY!!!! I ACTUALLY MANAGED TO GO RACING!!!!
With a small programme, most classes managed to get 4 races.
There were 12 Ltd Saloons (my class) and 3 Super Saloons racing. I had an excellent nights racing, with my best placings at Huntly, so far. I finished 12th in the first race, due mainly to having my right rear tyre blow out in the last lap and having to limp past the chequered flag. The 2nd & 3rd races produced the goods with me finishing 7th in both. Taking out the 3 Super Saloons, I actually finished 4th in the 2nd and 5th in the third ( I actually beat one of the Supers in this race - Photo of me passing the Super is on the Newspaper article below) The car is really going well now. About time too!!! In the 4th race I finished 11th. I was in 3rd place, tried too hard, spun out and then played catch up!!
Special congratulations to Barry Tidd who had a fantastic night behind the wheel of his Corvette, with a 2nd placing in one race. Well done, but look out next week mate???
This Friday & Saturday nights will see McDonald's Huntly Speedway in action again, with the Standard Stocks Champs and the Waikato Super Saloon Champs.
To help promote the above, all available Saloon Cars will be on display in Garden Place, Hamilton, outside the Council Buildings, on Saturday morning from 9am until 1pm. Feel free to come down and have a look.
Thank you all, once again, for your support and I hope to see you at the track soon.
Cheers
Nigel Wilton
9H LTD SALOON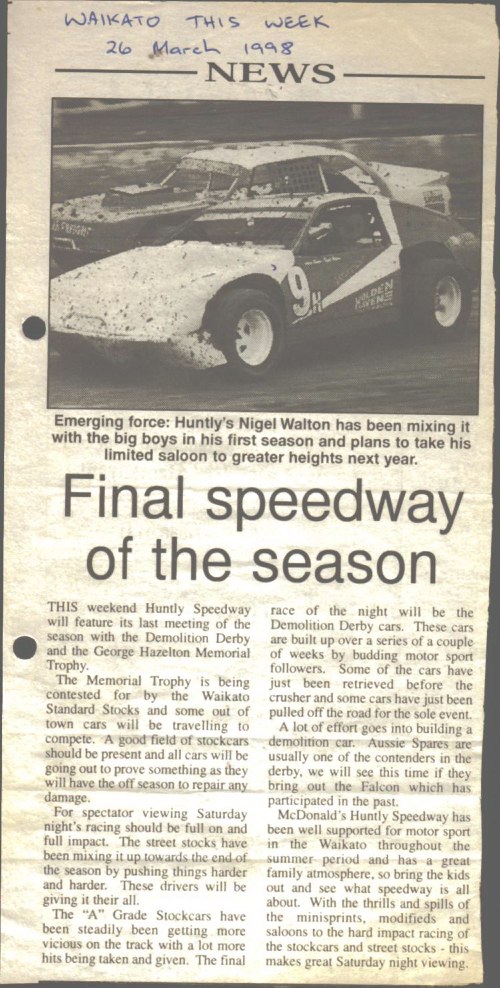 OK! They spelt my name wrong and it is my 2nd year of racing, not my 1st.
But it is all free advertising, right????