1 October 2007 to 30 September 2008

1 October 2007
Went to first practice at Huntly last Saturday. Good turn out of cars and the facility is looking awesome with the new catch fence in place. Huge thank you to Rossco for the use of a couple of his spare shocks. Means I will be able to get some work done on the car on Sunday.
Spent a full day on the car yesterday and was assisted by my good friend Richie Bradford. His welding & engineering skills are exceptional. Thanks Mate!
Car is 99.9% finished. Just need to buy suspension components and a couple of tyres and we will be all good to go.
I will put some photos up on the
Upgrades
section shortly.
12 October 2007
Photos now added to
Upgrades
section. I hope to be out racing very soon.
28 October 2007
Yahoo! I made it to Huntly Placemakers Fireworks Spectacular last night. Unfortunately, so did the rain and a bit of misfortune in race 1, which meant my night was cut short, but what did happen made me very confident that the changes made to the car will be a huge move forward. I have some minor repairs to make, yet again, and the car will be back on track again very soon. A short
newsletter
has been added and my
results
for the night.
31 October 2007
Car has been repaired, just need to buy a new shock and we will be back on track at Huntly on the 10th of November.
Have
archived
the last years What's Up pages...
25 November 2007
Yahooooooooooo, what a day!!! Had an invite form Rossco 77K to attend the Kihikihi Early Bird Saloon Series today. I jumped at the chance as I have been chomping at the bit to get behind the wheel again after Greg Powell has been driving the 9h Saloon for the last 2 meetings at Huntly. His help and skill, along with Brian Buck, has been invaluable in getting the car to handle correctly.
17 February 2008
Well time for some updates, me thinks...
I attended the Inaugural NZ Saloon Championship at Waikaraka Park in Auckland on the 10th, 11th & 12th of January 2008. With all the hard work done, over many years, it took a little while for the reality of the situation to sink in, but when it did, I have to say I felt very proud.
Unfortunately the event didn't go well for me personally, check out
Newsletters
, but congratulations to 1NZ Phil Towgood, 2NZ Brent McClymont & 3NZ Steve Williams.
Next meeting was the Valvoline Waikato Champs on the 26th of January 2008, at Huntly. Had a much better night here, but unfortunately more damage meant another unsuccessful night. Again check out
Newsletters
.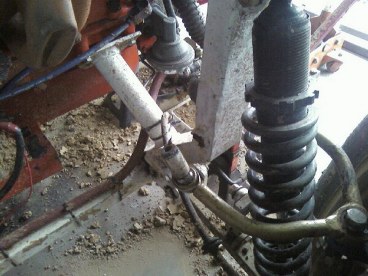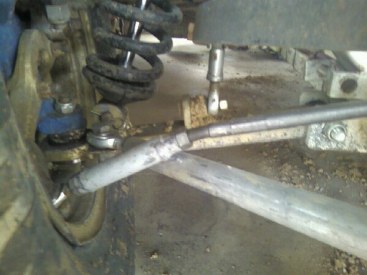 Broken A-Arm Mount & Bent Steering Arm
Next up was my 1st visit to Baypark for many years to watch the NZ Saloon Grand Prix. Didn't enjoy the "Outlaws - Time Trials" format, but felt it was entirely appropriate for the GP title. Baypark has a fantastic facility and I enjoyed the Event immensely.
Again, congratulations to 1NZ Phil Towgood who took out the GP title, 2NZ Brent McClymont for second and 75M Michelle Wymer for third place.
Was hoping to be ready again for the Inaugural North Island Saloon Championship at Huntly on the 15th & 16th of February 2008, but unfortunately repairs from the Waikato Champs weren't able to be completed in time. Very, very frustrating, but such is life... sigh!
Friday night's qualifying saw only 36, out of 45 cars entered, turn up. This was extremely annoying with only 4 of the 9 no shows having a "valid" reason. Enough said on that subject!
Qualifying started off with a roar seeing 1NZ Phil Towgood going from last to first in Red Group's first Heat, with no cautions, on an extremely good race surface. Blue Group's first Heat was also a cracker, with no cautions. Unfortunately in the middle of Green Group's first heat, the heavens opened and that was the end of that.
It was very pleasing to see all 36 Saloons out on the track trying to dry the track so qualifying could continue, and also the efforts of the support classes. The meeting was eventually canned at 9.15pm when it became obvious that the track would not dry sufficiently to provide a safe race surface, even though it was very, very close. It was decided to restart qualifying at 2pm on Saturday, but more rain overnight and a very poor forecast for the evening meant the meeting was officially abandoned at 10am Saturday morning and rescheduled for the 15th & 16th of March 2008.
On a positive note I have been invited to attend Gisbornes annual Saloon Invitation Event on the first of March and I can not wait to attend.
Today I will reassemble and clean up the diff, so I can paint the repairs and have the car ready to go to Gisborne.
I have added in photo's to some of the newsletters and I am actually attempting to catch up on some I haven't written yet.
2 March 2008
Just got back from Gisborne where I had been invited to compete in the annual Gisborne Pit Stop Saloon Car Invitation Meeting. The track, with its huge banking, is outstanding and the people of Gisborne Speedway top notch also. Had a great time and will add an update to my newsletter page shortly.
9 March 2008
10 April 2008
I Have had an awesome March in the race car. Check out
my results
and I will get the
newsletters
up to date as soon as time allows.
We have a huge event coming up at Huntly to compliment the V8 Supercars in Hamilton, so make sure you keep Thursda, 17 April 2008 free for a wicked night of speedway at
"SPEEDFEST"
- The Best Of The Best!
.
13 April 2008
Well, well, well...
Took the car out to the Huntly Ministock Mega Day to allow a very close friend Rachel to drive my car. I promised her a drive for her 30th Birthday (a couple of years ago...lol) and finally our schedules matched. Paul and their children Paige & Sarah came out to see their Wife & Mum have a go.
Rachel did very, very well and had an absolute blast. Her very first lap took just over 30 sec's and by the end of the night she was down to 18 sec's, which is no mean feat.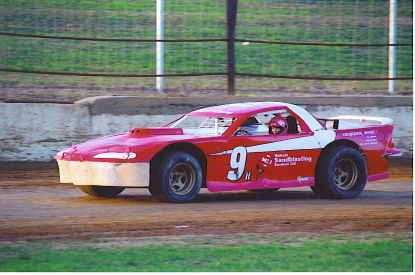 Rachel In Action On The Track 12 April 2008
I was also very pleased to finally give Erin Harris a go in the car too, as he has kindly let me pilot the 63H Stockcar on more than one occasion.
Another to taste the action was our leader Red Wootton, who handled a Saloon Car remarkably well until hitting a wet patch and taking out Alan Wade in his new Production Saloon. All was forgiven later.
Lastly Mark Powell had a go and was going very quick when he forgot to turn left in turn 3. Not sure if it was mechanical failure or not, so we will give Mark the benefit of the doubt...lol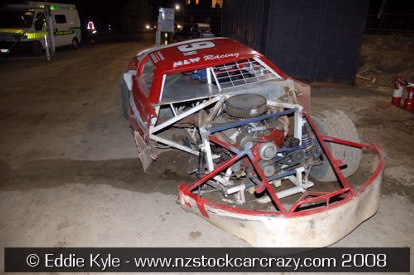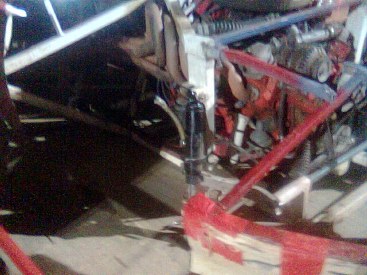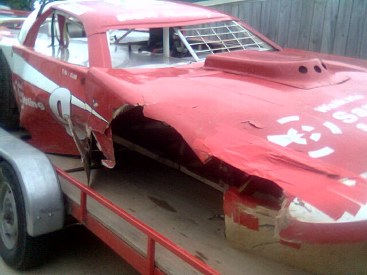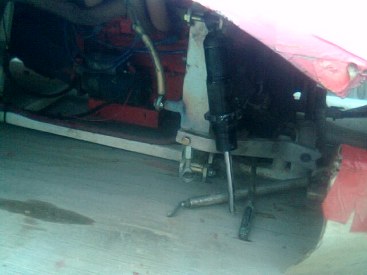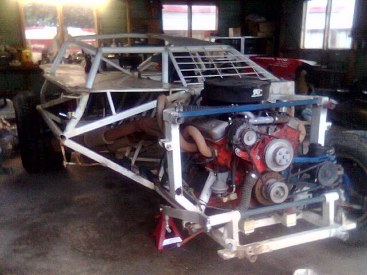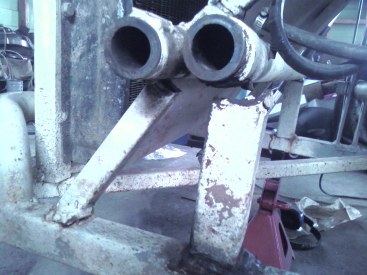 Just a little Damage to Repair