1 October 2006 to 30 September 2007

14 October 2006
Opening night at Huntly Placemakers Speedway tonight and, unfortunately, I won't be racing. Car is all ready to go with new paint job and signwriting, but the new trailer I have invested in is not quite finished yet.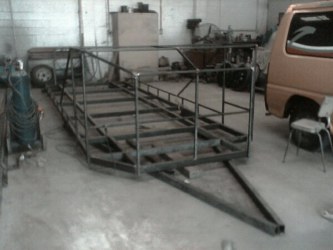 On left is the basic frame completed 14/9/06. On right with toolbox, tyre rack, drawbar and side rails done 2/10/06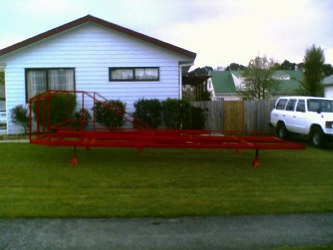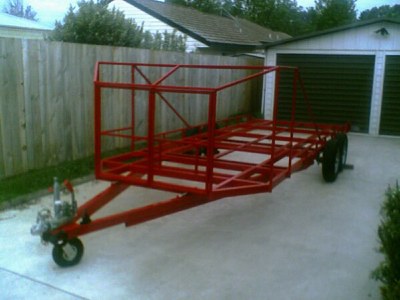 Axles done, suspension and wheels on 27/10/06.
5 November 2006
Well, what a great weekend (read that very sarcastically!)
Some kind soul, or souls, decided to steal my Land Cruiser on Friday night, 3/11/06.
Have basically lost all motivation and so trailer is still not completed. Got nothing to tow it with now! Grrrrr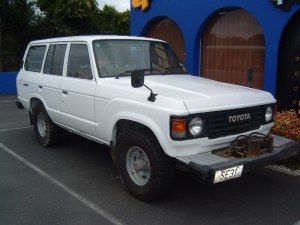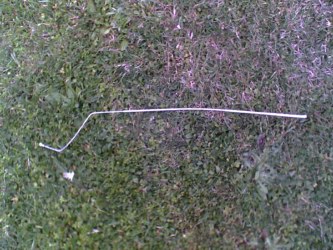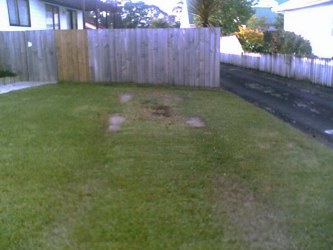 Land Cruiser above, the bent aerial below and the empty space occupied by the Cruiser for almost 3 years.
23 December 2006
Merry Christmas to everyone who reads my ramblings...
The old Landcruiser was found on Thames-Coromandel Highway by Greg Powell a few weeks ago. Unfortunately it is absolutely stuffed.
Good news though, I have now bought a new Cruiser.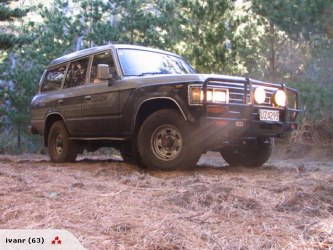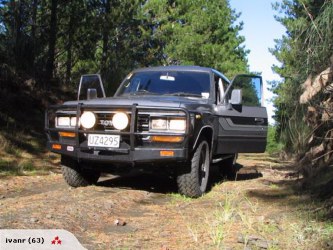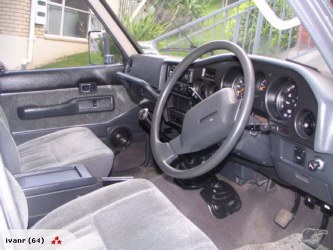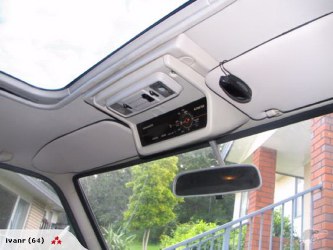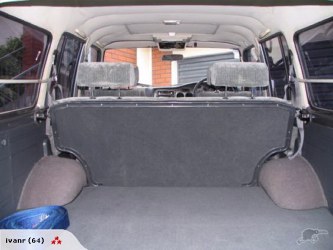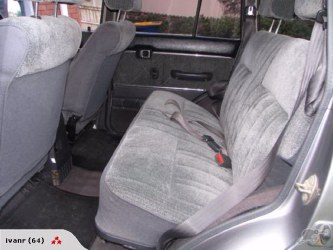 My New Land Cruiser.
Trailer is all but finished, with just alloy and a bit of ply for the toolbox floor to go.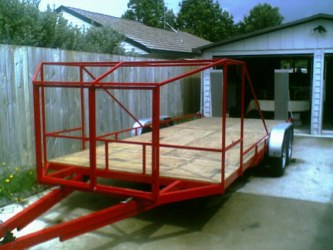 Deck, Ramps, Mudguards and lights 95% done and Maiden Voyage Completed 16/12/06.
This meant I could go racing last weekend for the first time this season.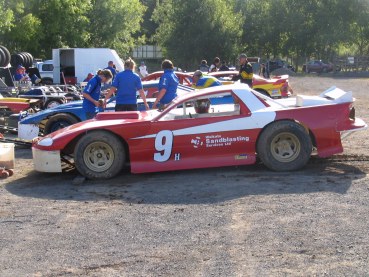 In the Pits at Huntly Placemakers Speedway 16/12/06
Unfortunately, all I achieved was to successfully manage to kiss the concrete again. Check out my latest
newsletter
and the
photo album
for more...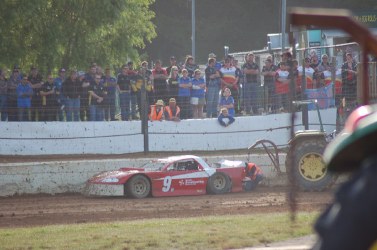 At the Tractors Mercy at Huntly Placemakers Speedway 16/12/06
Car is in the garage now to change front suspension set up. It is, obviously, just plain not right!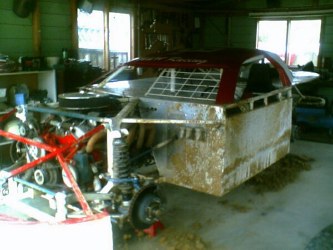 Up on stands ready for work.
I have archived last years "What's Up..." so go to the
archives
for a bit of history on the
NLW
Racing Team.
I am looking forward to the DHL Saloon Speedweek round at Huntly on 31 December 2006 and the Waikato Saloon Champs on 13 January 2007.
See ya then...
14 April 2007
Crikey time flies when you are busy at work and with teenage kids... lol
A lot has happened in the last four months, just nothing to the race car.
Erin Harris kindly 'lent' me his stockcar for the 31 March meeting at Huntly Placemakers Speedway. I was also privileged to have a drive of 28H Glen Drabble's Superstock at the end of the night. Man did I have a blast!!! I have written up a
newsletter
for the night in and posted some photos and a video.
The rugby season has now started and I will be busy with that and making changes to the race car this winter, so keep checking back here for up-dates.
See you at Huntly on the 28th of April for the Off Roaders. Should be a good event.
26 June 2007
YAHOOOOOO!!!!!
Back from SNZ Conference where it was unanimously voted to move Saloons from a Regional Class to a National Class. The first NZ Championship will be decided at the birth place of, then, Ltd Saloons, Waikaraka Park in Auckland. Huntly will host the North Island event and Baypark will host the Grand prix.
Changes/upgrades are being made on the NLW Racing Saloon. Thanks to Richie Bradford for his welding expertise.
I have completed the review of my night in a stockcar, including photos, thanks to Gary & Yaz of
NZ Stockcar Crazy
. Look below in 14 April 2007 update for the newsletter link.
Yaz's dedication to Speedway is right up there with MacGor's and she is developing into an excellent Track Photographer as well. Good on ya Yaz!
Updates will be a little more regular as changes are made to the car, so keep on visiting.
P.S. The offroading event went off BIG TIME. Well done to them.
30 June 2007
Have had time to look through some photos taken earlier this season of my son Ian, who has been Huntly's Pit Announcer for the last 2 years. He was sitting in the Control Tower, on 2 December 2006, when Trish Woolley, the Waikato Wanderers Manager, called him down to join the team for their Grand Parade. Let's just say I don't think Ian's feet touched the steps on his way down to join them. The Team presented Ian with a Wanderers T-shirt which they then all signed. He then assumed his position on front of 28H Glen Drabble's car.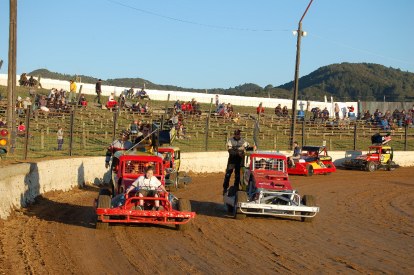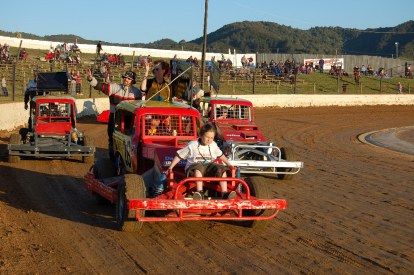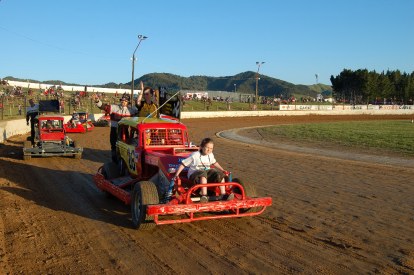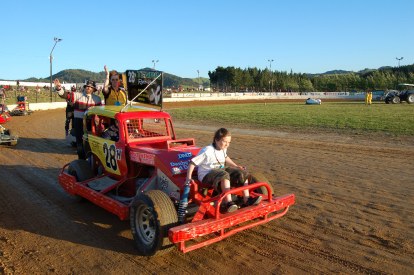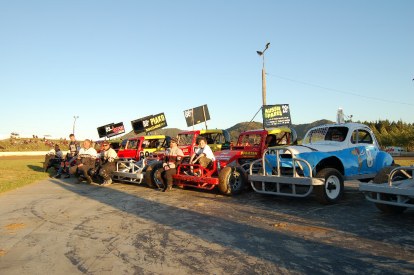 Ian's moment in the Limelight - 2 December 2006
Because of his hard work over the past 2 seasons, Ian was also given an opportunity to have a go in a Ministock at an organised Ministock Mentor practice session for New Drivers. Without a doubt this was Ian's (and his Father's) proudest moment all season. Many, many thanks to Glen & Robyn Thomas and their son Daniel for the opportunity and use of their car. Everyone was commenting on how he was a natural and had to be told to slow down... (First time a Wilton has been told to "slow down" at Speedway - something he never forgets to remind me about...lol)
Unfortunately the NLW Racing Budget will not accommodate the purchase of a Ministock, but if anyone has one spare that Ian could use, send me an e-mail.
Thanks to Robyn for the Photos.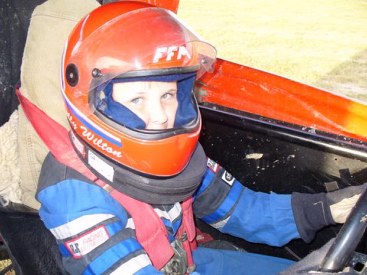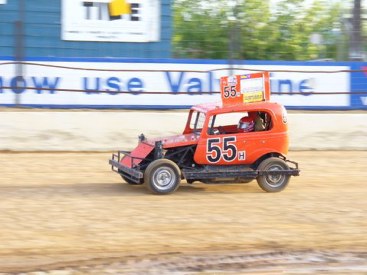 Before Ian Headed Out and On Track...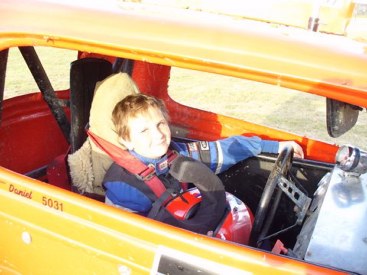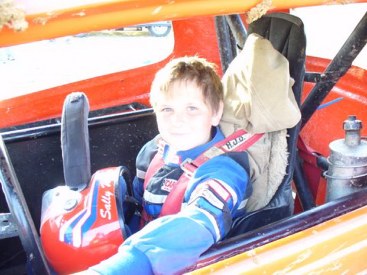 And The HUGE Smile Afterwards
1 July 2007
I have added a couple of photos to the
Photo Album
from 2005/2006 season.
14 July 2007
Have added a couple of progress photos of changes to suspension mounts, etc, on
Up-Grade
page.
15 September 2007
Have done some more work on car today. Hoping to be ready for Opening Night at Huntly Placemakers Speedway on 13 October 2007. I have included a couple of pic's on the
Upgrades
page. Have also added some photos to my
personal profile
from my recent Rugby Trip to Surfers Paradise with the Hautapu Hopefools.