1 October 2004 to 30 September 2005

7 October 2004
Well, can you believe it has been 8 months since my last update????
Unfortunately my Computer picked up a virus and I lost my off-line website. It has taken me months to redo it from the on-line site.
16 October 2004
Just waiting on my diff to come back from the engineers after fitting a birdcage and I will be ready to go.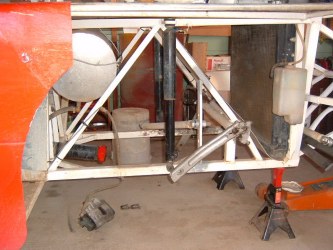 No Diff...
Looking forward to Opening Night tonight at Huntly Placemakers Speedway. Looks very grey and dismal outside, hope it stays away....
Have fitted an HEI distributor and shifted the breather on the motor, to improve performance and stop oil getting on motor.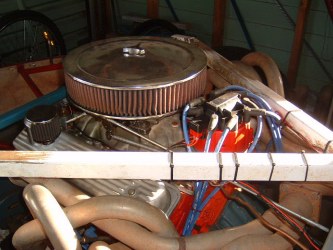 HEI Distributor & Breather on Rocker Cover.
Better go and get ready.
See ya at the track.
7 November 2004
Picked up diff on Friday. Steve Hampton certainly does good work. Next meeting is 13 November. I will do my best to be there.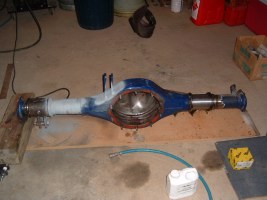 Thanks to Century Batteries for a new mega battery. New signs for side of car.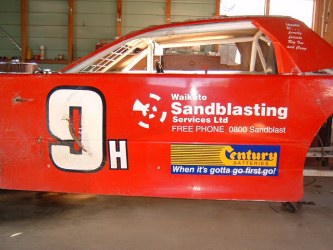 Welcome Aboard Century Batteries.
9 November 2004
Got a long way towards fitting birdcage, but had a little trouble with welding splatter getting underneath the plates. No good at all!!!!!!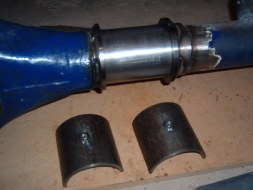 Right Hand Birdcage & Torsion Mount fitted & Bare Left Hand Side.
Have tidied up tonight ready for another go on Thursday.
Thanks to Richie Bradford, a Hopefool and very good mate. Cheers.
14 November 2004
Another awesome race meeting at Huntly Placemakers Speedway last night. I am looking forward to being in action on the 27th.
In the meantime I have started some much needed bonnet repairs.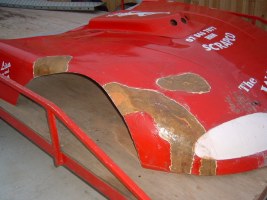 Bonnet Repairs
19 November 2004
Been having trouble starting car. Greg Pickerill kindly came around to assist and located a fault within my 'new' HEI Distributor. He has removed the dizzy and will replace the faulty part. Thanks Greg.
Contacted USA company re: faulty parts and they have sent new bits. Very, very impressed. I will add them to my contacts page as soon as I get there new website address.
22 November 2004
I have almost finished birdcage, just left hand side to do and put alloy back on.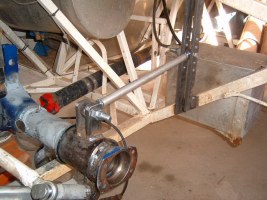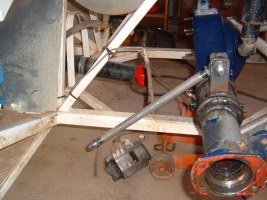 Right Hand side finished and Left Hand Side almost done.
26 November 2004
Dizzy back from Greg yesterday. Went to fit it last night only to find it wouldn't go back in. After checking the hole with a torch, I was dismayed to find parts of push rods and lifters blocking the way. It is far to say I have had a guts full of these stupid problems. I will now have to strip the motor to locate the rest of the broken bits so have decided to forget this season, get the car right and have a big one next season.
Aaaarrgghhhhhhhhhhhhhhhhhhhhhhhhhhh!!!!!!!!!!!!!!!!!!!!!!!!!!!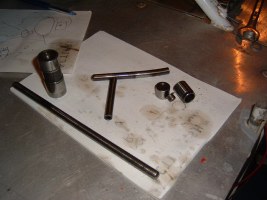 Broken Bits.
4 December 2004
Have pulled my head in and got back to work on the car. Diff is back in the car. Just have to purchase a new right rear seal for the axle/diff and it will be all go. Then it will be on to the engine. Take valley off and inspect. Change oil and filter. Hope I don't have to drop sump as well.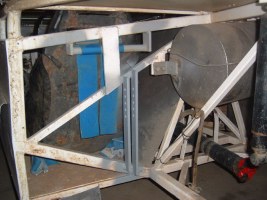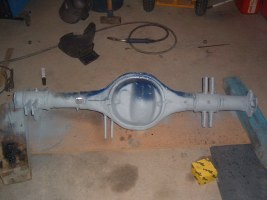 Left hand side fitted and Diff Mounts all done. Started primer painting.
10 December 2004
Diff finished and in car. Just need to adjust torque arm. Too long now, for some reason??
Rolled car out of garage and emptied the radiator. Now ready to remove valley and inspect for more damage???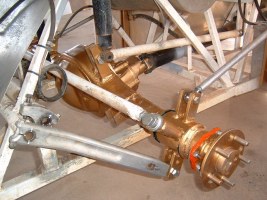 Diff in, painted and working well.
19 December 2004
Diff assembly finally 100% complete. Shortened torque arm fitted. Everything looking good.
Took the valley off and found the rest of the stuffed lifter still in its hole. No sign of the rest of the pushrod so have to assume it is in the sump. Bugger! Oh well have to change oil and filter anyway. Also buggered was a rocker and the ball 'thingy' that sits under the lock nut. I have spares of everything but the ball 'thingy'.
Have adjusted brake lines and repaired where necessary. Should be back together by Christmas and ready for the first meeting of the new year at Huntly Speedway. Fingers crossed!
29 December 2004
Finally dropped the sump yesterday and located the rest of the broken bits.
Doesn't appear to be any further damage, so back together she will go during the week and hopefully it will make some noise soon.
I trust you all had a good Christmas and Santa was kind. Have an awesome new Year and please don't drink and drive.
And as for what is happening at Western Springs, it just defies belief!
5 January 2005
Car now makes noise, hopefully at less than 95db, and I am a very happy man.
Have given the car a spring clean and just have the bonnet to finish off to get back on track.
Look forward to seeing you on the track very, very soon.
I have also fixed up the link to my Guest Book. Please feel free to let me know how things are at your place or if you have any suggestions/invitations for me.
10 February 2005
Well,
The last few weeks have been absolutely chaotic. I have started a new job with
Car Credit
and have been based in Auckland since starting. I am certainly looking forward to heading back to Hamilton.
Racing????
Unfortunately, my engine is still causing grief and I am STILL waiting for bits for my 'new' distributor to arrive from the States. I am just about ready to give up on them. I will name the supplier here if I don't receive them very soon.
I will be doing my best to get out there racing as soon as I can.
17 February 2005
Ahhhhh,
My faith in the internet and on-line businesses has been restored with the arrival, finally, of the parts required to repair my 'new' distributor, from the good ol' US of A.
I will now, hopefully, see some action on the track for myself, as I have not enjoyed being a spectator.
13 March 2005
Well, there have been some good times and some bad of late. Good times on the track, bad off. I will not dwell on the bad, as things have been extremely positive of late.
Finally made it to the track at Huntly Placemakers Speedway and have found the changes made to the car and setup have helped immensely. The car is now so much easier to drive and I even had a 3rd in the second race. Very happy I was.
I was so happy I decided to venture back to Auckland to support Greg Powell and Waikato Sandblasters as they are my major sponsor and have been amazing with their help to get going. Unfortunately the driver attitudes of some Aucklander's still leave a little to desire and after words with one of them after the second race, I had a blast.
Still very new to car so was never going to be super fast, but I am confident that the car is up to speed. I just need a lot of work.... LOL
I will do meeting reviews as and when I get time.
Car has been cleaned by the groomers at Work and they did a great job.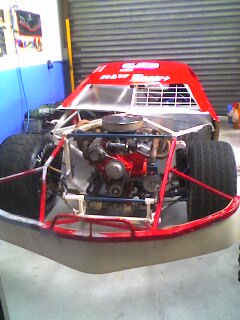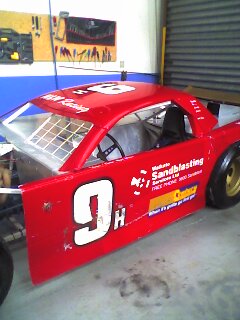 Car has never been so clean.
Oh well no racing for me until 2 April at Huntly (if we run Ltd's), so see ya there.
11 April 2005
I have added in
Results
from my last race meeting at
Huntly Placemakers Speedway.
It is fair to say that I was absolutely stoked with the car. Everything finally came together and the car was flying in the Feature. To be pushing 98H Greg Powell hard for 7 laps, before making a mistake and collecting the wall, was no mean achievement. It is the happiest I have ever been loading a damaged car on to the trailer.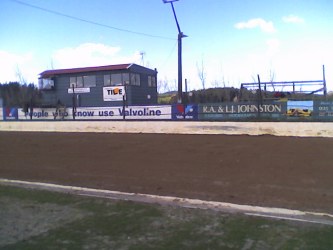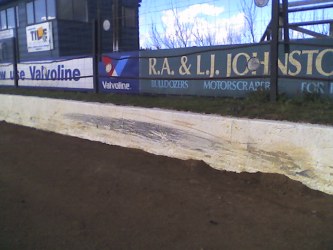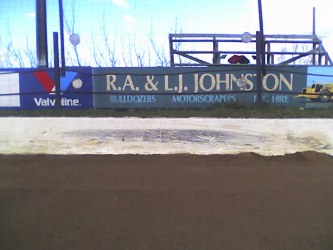 And the end result of my "prang" was this big black mark left on the newly painted wall...
19 May 2005
Well, unfortunately I have decided to sell up. I have repaired the damage from the last meeting I raced at Huntly and have decided that I just can no longer afford the costs of racing a Ltd Saloon, especially a GOOD one.
It kind of seems ironical that now that the car is going well, FINALLY, that I am selling it. I am actually happy that I now know it is right and that who ever buys it will get an awesome run out of it because I had all the teething problems...sheesh!
I am still on a high after the last meeting I raced at Huntly. The car, and I, finally got it together and did the business and if it wasn't for a lack of track time I may not have made the mistake I did. What happened I hear you ask? Basically I drifted wide coming out of turn 4 and got on the gas a bit too soon and found myself heading to the wall. I took my foot off the gas and the car promptly turned right and ploughed into the wall! Lesson learnt: Keep your foot hard on the gas and it will pull out.... Do NOT Take Your Foot OFF THE GAS!!!!
Oh well, such is life.
4 June 2005
Trailer has been sold to a Porsche Driver from Wellington and there has been a lot of interest in the race car. Will be sad to see her go, but such is life. Been no interest in Landcruiser yet, which surprises me, as she is a beauty. PTO winch is very, very handy!
Gearing up for conference now and I must say that I am looking forward to it.
21 August 2005
The car has just been sitting on blocks waiting for the coming season to start. As nobody has purchased it yet, I have decided to make some more changes. I have also added a new section to my website which shows all the
upgrades
made since the building of the car. This will clearly show everything that has been done to the car since day one.
I have taken the steering column out and am putting a steering quickener in.
I have also cut off the front bumper with the intention of replacing it with a removable bumper assembly.
29 August 2005
I have added photo's below of the big black mark I left on the freshly painted wall after my last race meeting to the "What's Up..." update dated 11 April 2005...
Still looking for a steering quickener. Not that keen on a chain driven setup, but will do that if I don't get a geared unit soon....
31 August 2005
Have added in all of my
Newsletter
archives from the old web-site, finished the
Sponsors
pages and added in the What's Up Archives...?
9 September 2005
24 September 2005
Have spent the afternoon in the garage mounting the new 2 to 1 steering quickener under the dash. Just need to finish off the steering column each side of the quickener and the steering will be completed. Check out the
Upgrade page
for a photo.
Only the bumper to go then and I will be all set to go for opening night and hopefully a practice or two.