1 October 2001 to 30 September 2002

26 September 2002
Check out some more
old photos
of the original Monza stripped down in a warehouse when I first started. I couldn't even get the bloody thing started, back then, I was so "green"!!! But man was I excited about getting going.
Confession Time: "I was so excited that I stripped the car down in one night, easy! Only problem was I didn't think to take enough care to look what I was doing and when it came time to put it all back together, I COULDN'T!! I didn't have a clue where to start. This is when I met Barry Tidd who kindly came around and put the jigsaw puzzle of alloy back together in 10 minutes flat. It then took me another whole night to rivet it all into place properly. Man did I feel like an idiot. Thank God I have come a long way since then.
8 September 2002
6 September 2002
Finally added the Provisional Huntly Calendar.
4 September 2002
Back on-line. Had an EVIL VIRUS! Thanks to Ross at Dot Com Computers for the cleanup!
In new house, back in town now. Shifting sux!!!
Work on new car is progressing well and during the shift I found the old photo's taken when I first started the car back in 1995.
Check them out
!
Reminder of Saloon meeting this Sunday, 8th September, at 1pm.
Venue: The Finance Shop, 21 Seddon Road, Hamilton.
18 August 2002
Bloody knackered!!!!! Shifting process has stared and it took a whole day just to tidy up the garage and shift a "few" items.
Played the "Dream Team" Southern United in the Final of Div 3 Waikato Rugby, at Tokoroa yesterday. Unfortunately we lost 20 - 12. Bloody good game, but!!!!! Bus trip back was even better!!!!!!!
Have added a photo to the
album
of the old Blue Monza getting all steamed up at Waharoa a couple of years ago. Crew Man, Craig, was driving and was given a bum steer by me on the auto and drove a race in "LOW GEAR". Funnily enough the old girl overheated and blew off the top hose, in a big way!!!!
14 August 2002
Well, I've found a new place to live, back in Hamilton. Move in shortly.
Committee meeting last Monday night raised the following;
5th October - Working Bee at the track, 9am - 1pm. This is also the second practice day. DO NOT EXPECT TO PRACTICE, UNLESS YOU ATTENDED THE WORKING BEE!!!
Huntly will be fully Electronic this season. No transmitter, means you will still be able to race, but your placing/postion will not be counted. THERE WILL BE NO "HUMAN" LAP SCORERS!
A reminder that Registration night is Friday 13 September, 7.30pm, at the Track.
5 August 2002
Well, it looks like the house has been sold and I am going to need a new place to live. If anyone knows of a 2 or 3 bedroom house with a double garage (of course) for rent in Hamilton, PLEASE E-MAIL ME & LET ME KNOW!!!!!
28 July 2002
Well, a long time between updates, sorry! Not a lot been happening, to be honest, so I have been concentrating on work and Rugby.
Have attended two WSSCC Committee meetings now and find that the club is in very capable hands. I will post provisional Race Dates when I receive them.
Would everyone who looks at this site please send me a photo of your car and a profile so I can keep updating the Classes page with all of Huntly's drivers.
1 July 2002
Well, thanks to the generosity of Erin Harris, I was able to catch up with some old friends, who I don't see enough of these days, and attend the WSSCC annual prizegiving last Saturday night. And I must say, A HUGE Congratulations should go to the organising committee for a great job, well done!!. Callum, you did an awesome job as Master of Ceremonies on the night, very entertaining.
To all Prize winners, well done and congratulations also.
Saloon Prizes were as follows,
Ltd Saloons:
1st Overall - 19H Mark Jones
2nd Overall - 71H Mark Dalby
3rd Overall - 7H John Brodie
Super Saloons:
1st Overall - 25H Don Galletly
2nd Overall - 32H Mike Pegler
3rd Overall - No Third Place
Check out the Huntly Saloons Website. I am slowly adding profiles, as I get them. Porry's history was quite interesting.
Check out "Porry's Pirates" profile for some 'historical' photo's.
Catch ya later....................
19 June 2002
Curious?????????? A lot of visitors, of late, but only one comment in Guest Book and that was about the same thing. What's up people?????????
First Committee meeting last Monday night. Man there is a lot goes on behind the scenes. First point to make to every single bloody moaner out there, "Don't bitch and moan unless you are prepared to put your money or actions where your mouth is!!!"
I am awaiting a call from someone important about their idea on Ltd Saloons. I will let you know more later.
Car build is progressing well and it is interesting to see the number of Ministock's for sale at the moment. Are all these people moving up into Adult racing classes?? I bloody well hope so for the future of our sport. Oh well enough of the soap opera.
I am currently preparing Driver Profiles for ALL CLASSES at Huntly. If you have an e-mail address, then contact me so I can send you out a Profile form. I want to get as many done as I can before the start of the season.
Catch ya.........
13 June 2002
Limited Saloon drivers beware!
Someone, somewhere, who shall remain nameless at this time (because I don't really know who yet!) wants to see the end of Ltd Saloons as a class!!!!!! Check out the ASCD website for more details. It is really important for all Ltd Drivers/Owners to join with the ASCD to show SNZ that we are serious in our endeavors as a class and that by combining with Super Saloons a lot of us who follow the "Rule Book Intent" of Ltd Saloons, i.e. a Budget Class of Saloon, will end up having to give up because of the costs involved in running a Super.
God Damn!!! If I could afford it I would be running a Super Saloon, not a Limited!!
Unfortunately not all of us have the mega million dollar budgets/sponsors to compete at Super level and, to all those people who want to spend tens of thousands of dollars on Ltd Saloons because you have to win at all costs, why don't you spend that money on a Super and be "competitive" in that class.
I have built my new car to be "competitive", NOT to win every race!!! A win is a bonus. If I wanted to be Super Competitive I would have built a Super Saloon!!!!!
Enough ranting from me, it's 2am and I should be in bed!!!
I welcome your thoughts in the Guest Book.
2 June 2002
Well, where were all the Saloon drivers at the WSSCC AGM on Friday Night? You can't all be at Taipa this weekend, surely!
Only Porry, Robin Greenland and myself, along with '22' others, were there.
Robin & I have been elected onto the Committee for the coming season.
Nothing else to report at this time, except that the Hopefool's (My Rugby Team) won 63-0 yesterday against Northern (Tahuna). Yippeee!!!!!!!!!
28 May 2002
Added a link to the new Kihikihi Speedway website. Well done to Greg Maxted for getting this up and running. Not before time either!!!!!
DON'T FORGET WSSCC AGM THIS FRIDAY, 31 MAY 2002, 7.30PM, AT GLENVIEW CLUB, HAMILTON.
20 May 2002
A VERY DISAPPOINTING TURNOUT AT PORRY'S FOR THE "SALOON" MEETING.
Those Drivers that attended, were the usual, Porry, Barry Tidd, Robin Greenland, Don Galletly and Myself.
It was decided that Jo will be the new Ltd Saloon Drivers Rep, as Owen has stood down after a few years in the job (Thanks for your past efforts Owen!). Carol will be the Super Saloon Drivers Rep (assisted by Jo) and I will be the new scribe for the newsletter.
Both Robyn and myself have been nominated for committee this year so hopefully at least one of us will be there to represent Saloons.
At the request of those present I have started preparing a Huntly Saloons Site which will have all the necessary info for next season. Check it out soon!!!
8 May 2002
"NEWS FLASH"
Meeting for ALL 'H' Registered Saloon Drivers, at Porry's on Sunday the 19th of May 2002, starting at 3pm, sharp! Bring the Whanau and a Bottle (or two) but no DIC's please!!!!!!!!
A new Drivers Rep needs to be elected and an update on drivers/cars for next season will be given. Red and/or Paul Wade will be there to discuss next seasons plans for Saloons.
NO EXCUSES!
4 May 2002
Still not a lot to report. Hopefool's are still undefeated. New Car is progressing well. Last speedway meet of the year is at Kihikihi tomorrow. King Country Standard Stock Champ's, I think, and a demo derby. Gates open at 11am, racing starts at 1pm.
17 April 2002
Not a lot to report. Rugby season has started. 4 wins from 4 games so far. Almost unheard of for the Hopefool's. Progress on the new car is happening as money allows.
Good to see Barry has his new/old Super ready to go.
I have updated the Huntly Calendar to the right details and included Swap meet times for Saturday 27 April. Please also note earlier start times for the next two meetings.
See ya all at the track Saturday night for the Waikato Super Champs. Remember everything starts an hour earlier this Saturday at 6pm.
P.S. Why no comments in the Guest Book????????????????????
30 March 2002
A huge THANK YOU and WELCOME to NLW Racing for Frankton Auto Spares and Car Crushing Services Hamilton, new sponsors, who have just offered their services and products. I will be adding links to my sponsor's page shortly.
I have also added some old photo's of the old cars. Check out the
Photo Album
.
16 March 2002
Finally bought a scanner. Thanks to Ross at Dot Com Computers for a great deal.
Will be able to post pictures quicker now. I'll go through some old albums to see what I can find.
Added Beaurepaires - Cambridge Branch to my Sponsors list. Thanks a lot for your support Dion. Anyone needing tyres or wheel alignments, ring Dion and tell him where you saw his name and he will arrange an excellent deal for you.
12 March 2002
Added a couple of photo's, below, from Kihikihi on 4 March 2002.
11 March 2002
Went to Baypark on Saturday night to help out a new Super Saloon Driver and to have a look at the Unofficial NZ Ltd Champs.
All I can say about the facility is "Bloody Fantastic". Only problem with the place is that there are FAR TOO MANY OFFICIALS. I am sure Peter Harford could save himself and the competitors a lot of time, money and grief by eliminating the "Officious Persons" who seem to take great delight in throwing their "supposed" weight around.
Unfortunately, Mike didn't have a great night with the Super as it kept breaking down electrically. But for dedication and keenness I give Mike 100 out of 10. He was very excited and reminded me of how I was my first night.
The racing otherwise was very good. I have never seen speedway cars going sooooooo fast, especially the Supers & Sprintcars.
I can't wait to get the new car finished and out there.
On that note it's back to the Garage I go.
4 March 2002
Went to Kihikihi Speedway yesterday to drive a Standard Stock. Yes you read right, a Standard Stock. Thank you to Erin Harris, 63H, for the opportunity to have a go.
First two races were a lot of fun and in the 3rd the word went out to Derwig, in 61H, to welcome the "novice" into Stockcar racing, which he duly did by seriously planting me into the wall, followed by Callum McLeod, in an A-Grade Stockcar, flying through and over the right hand front of the car launching him into the air for a wild ride along the wall. Unfortunately 2 flat front tyres and RF suspension damage meant my race was over. Welcome to Stockcar racing, indeed!
All in all a lot of fun, but I think I will stick to Saloons!!!!!!!!!!!!!!!!!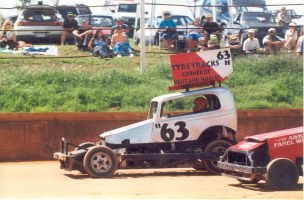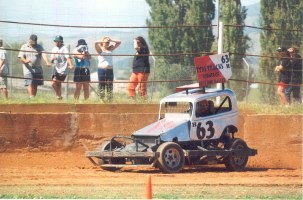 27 February 2002
Thanks to some not so subtle phone call's and e-mails I have pulled my head out of the sand and am back on track.
Motivation is now back to get this bloody car finished and on the track before the end of the season.
I have updated my personal profile and added an up-to-date photo of myself.
24 February 2002
It is with regret that I advise that NLW Racing is shutting up shop and my new, almost completed car, brand new tandem-tilt trailer & spares are now for sale. Unfortunately, with everything that has happened in the last few weeks/months, I have lost interest in the car and racing. Check out the
New Car
page to see what you will be getting for your dollars. I will
NOT
be giving the car away, but any reasonable offers will be considered.
10 February 2002
Congratulations to the new Waikato Ltd Saloon Champ, 79M, Mike Griffiths, Runner-up 19H, Mark Jones & Third 59M Bryan Skelton. Excellent racing all night with only one major incident in the final seeing Mike Wilson 69H, in his TR7, ending up on his roof after 32A Steve Louden's steering wheel came off in his hand, causing a come together, at speed, under the commentary box.
I have added a page with all the Huntly registered Drivers in all classes, as per the latest programme. Any error's or omissions, please let me know. I will add more photo's and web site linkages as they become available.
Sorry for the lack of updates, this is mainly due to the fact that my dearest Kylee moved out on 3 February 2002, leaving a very, very big hole in my life.
27 January 2002
I have added a new link tonight for

check it out for all the links you'll ever need to find out anything about motorsport in NZ & worldwide.
18 January 2002
Huntly rained off tonight, yet again. I have been informed by Red that tonight's programme will now run tomorrow night (19 Jan) at the usual time and that tomorrow nights programme will run on Sunday (20 Jan) starting at 1pm, with gates opening at 10am.
7 January 2002
Happy New Year everyone.
My new year started with a bang, i.e. I blew my groin to pieces attempting to water-ski. Guess what I won't be trying ever again?
I have updated the Huntly Race Calendar (Thanks' Paddy). Good to see the Mod's & Super Saloon's have got their Champ's back.
I have made repairs/alterations to trailer and just need to put brake line, wiring and deck on to complete. Looks good.
Looks like the weather God's are finally being kind to Speedway. Hope you are all enjoying your racing. I would love to go to Baypark, but after MacGor's last review and the "COST" I will probably wait until next season.
Oh well, better hobble out to the garage and carry on with the new car.
See ya....
28 December 2001
I have added some photo's of
new car
.
Have added a new link to
ATL Balancing
. They do a bloody good job!!! Check them out. Mention how you saw their add and you may even get a discount on their already good prices.
Went to an awesome Halloween Party, in November some time. I went as Gene Simmons from Kiss (who else?) Got absolutely smashed. Great night all round.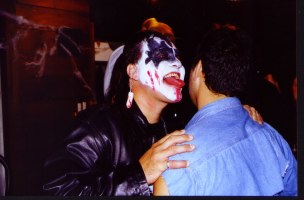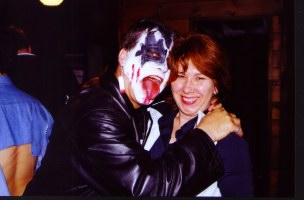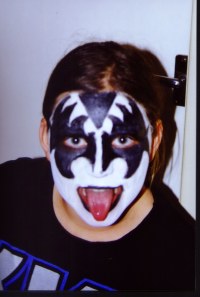 Even Got My Daughter, Lisa, "Made-up"!
27 December 2001
I have procrastinated to buggery, of late, due mainly to "Personal / Marital" problems, but with 2 weeks off work it is time to get alloy on, steering finished, gauges fitted, engine fitted, driveline fitted, brake components fitted, i.e. put the bloody car together!!!
Biggest problem of late is still scanner access, Barry's computer caught a virus, or 2, and works scanner is bloody useless.
Point's page not updated as most of Huntly's meetings have been rained off and the "information channels'" are similar to the weather, bloody hopeless.
I've given up on other people and realise that to get anything done you just have to do it yourself!!!!
Good luck to Barry with his recent Super Saloon purchase, he will no doubt be out in the new year in his new car.
I hope everyone had a good XMAS.
24 November 2001
Thank you to my regular visitors. I apologise, yet again, for the lack of updates. I have been suffering from a severe case of 'procrastination'. I have been waiting & waiting for things to be done, that I can't do, the season has started and so I had basically lost interest in the car. Thanks to a kind message from MacGor and items finally completed I am now back on track, I hope.
I have given up on waiting for the "New Addition" as the person involved hasn't come to the party, as yet. If things improve or change, I will go ahead with the New Addition.
I will be adding a Merchandise section soon. I will have available, T-Shirts, Caps & Embroided Badges for sale for those who may be interested. Prices will be advised when cost is known.
Otherwise good luck to all those racing & I hope Huntly hasn't been rained out again tonight.
Cheers,
12 November 2001
More photo's added, sorry for not keeping promise of regular updates. Scanner at work is playing up, but thanks' to Barry & Sandra I have access to a decent scanner!!!
New addition is still on hold, waiting on someone else! Will be all go when they are ready.
28 October 2001
Successful show display. Thanks to Craig Martin 36H Standard Stock, Barry Tidd 4H Ltd, Red and Paul Wade for their support.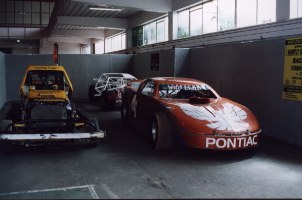 WSSCC Display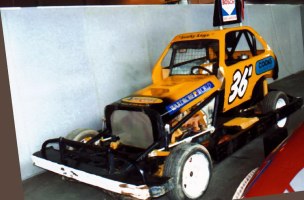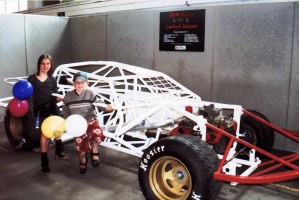 Photo's of Craig's Standard Stock and my Chassis, along with my two biggest fans, Lisa & Ian.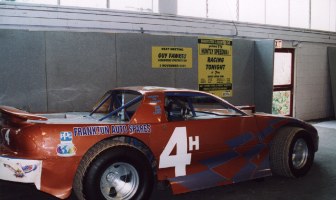 Barry Tidd's 4H Ltd Saloon
I have just received a faxed copy of Kihikihi's Proposed Race Dates. If anyone from the Kihikihi Club is reading this, please contact me if there are any errors, omissions or changes. Thank you.
26 October 2001
Big changes to the Huntly programme. Check out Event Calendar for details. Note the canning of the Waikato Modifieds Champ's and the Super Saloon Champs, both due to a lack of Huntly registered cars.
The new car is now down at Claudelands show grounds for the Waikato's World Show this weekend. Thank you also to Barry Tidd, 4H Ltd, and to Craig Martin, 36H Std Stock, for there cars also being on display.
I will take photo's over the weekend and will then be able to get film developed and photo's scanned onto site. Promise!!!
Catch ya....
18 October 2001
Sorry, computer problems mean the new addition is being delayed. Hope to have on line as soon as. Please keep checking.
The race calendar is now confirmed. I have clarified with Owen Wilson, the Saloon Delegate on Committee, that we have only one stand down. That is the night of the Super Saloon Champ's.
Progress on the new car is slow due to waiting on parts, otherwise nothing to report.
15 October 2001
I have adjusted the list of Ltd Saloon Drivers registered at Huntly (so far) for this season. Points from opening night will be entered as soon as I receive them.
A good night's racing on Opening night with only one minor racing incident in the Feature. It has been a long time since I have seen 3 Saloon Car races, in one night, with the yellow coming out only once, due to Gordon ( "You picked a fine time to leave me loose wheel" ) Pollock in his re-powered 11H Nissan. A credit to you all.
Catch ya...
.
13 October 2001
Opening Night at Huntly and unfortunately I will be there in person only. Ran out of time. Waiting on engine and diff!
Check out the new car at whatever stage it is at on the 27th & 28th of October at Claudelands at The Waikato Worlds Show.
Well, I must go out and do some more work on the car.
See ya tonight......
4 October 2001
I have "
Archived
" most of this page and will do so every couple of three month's, at the suggestion of some readers, as they found it boring reading/seeing the same old stuff??? You can check up on past comments by going to the Archive link, in red, on the left hand side of this page.