14 January 2001, Huntly Speedway

Waikato Ltd Saloon Champ's

Well,
Finally, after a lot of bloody hard work, I'm ready to go racing for this season. A complete rebuild over winter, dragged on into the summer, due to me being out of work for 6 months (bloody redundancy!). I have changed the car from a Monza to a Corvette. Special and huge thanks to Greg and his team at Waikato Sandblasting Services for the paint job and assistance. Car looks heaps better and even has the approval of my "harshest critic", my dear wife Kylee.
Last nights meeting was the Waikato Limited Saloon Champs, at Huntly Speedway. There were 28 cars on show from Auckland, Rotorua, Stratford, Hawkes Bay and, of course, Huntly. I was in group 1. I drew grid 8 in the first qualifying heat.
I got a good start and was holding my place on a very fast and drivey track surface. On the third lap a car was spun in front of me and went to the infield. I managed to avoid this incident, but on the next straight was confronted by this car coming back onto the track inside me. I objected to this maneuver and from that point I was racing on 100% adrenaline and 0% brain. On the next lap an Auckland car tried to pass me on the inside when I was sure I was on the pole line. I obviously didn't back off and at the corner we had a "racing incident" which saw us both end up on the infield. I had damage to the LF suspension, had lost my new left hand side door panel and cut my LF tyre. "I WAS PISSED OFF!!!" But that happens in motor racing.
That was us out for the night , but I was very happy with how the car was performing. Still underpowered compared to the top cars and their "million dollar engines", but still able to hold my own with the rest.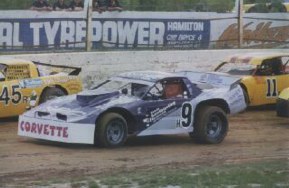 In our grid for the start of the first (& only)
race I had for the night.
I've got 4 weeks, or so, before the next meeting at Huntly, so plenty of time for repairs. Special thanks to my crewman, Ivan, for his work in getting the car back together at the track. What a bitch of a night???
Next meeting 9 February, see ya there ...?