20 December 2003, Huntly

WAIKATO STD STOCK CAR CHAMP'S

Well,
The car was looking good for it's second visit to Huntly this year.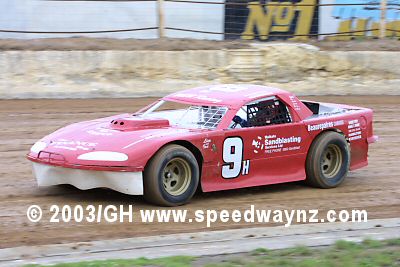 Thanks to Graham Hughes for the photo.
With only 6 cars, 4 Ltd's & 2 Supers, I was confident of a good night.
Race 1, grid 1, wet track. Same result as first night out...too much horsepower, no traction resulting in no handling, meaning survival was my only concern. I finished at the rear of the field. Fastest lap for me was 20.8248 sec's...
Race 2, grid 3. The track was now perfect and the car was hooking up nicely. I was in 3rd spot and overcooked it a little coming out of turn 2 and had to get off the gas. After rejoining the yellow came on after 55H Lance Slater had walled. On the restart 4H Barry Tidd ended up parked across the track (again on the exit of turn 2) and with everyone going hard now, carnage was the result. I was following 41H Porry which launched into the air in front of me, why was soon answered when I also hit the spun car destroying it's front end. The race was called at this stage. I finished in 3rd spot behind 13M Murray Guy & the unlucky 41H Porry. Fastest lap time 17.6981 sec's.
I had enough damage to mean that my nights racing was over prematurely, yet again, and so on the trailer I went!
Positives for tonight? Not many, but after having sorted out the carb problem's the engine is performing exceptionally well and my time in the second race was the fastest "recorded" lap time for that race. It was also good to see Porry out racing again in his little TR8 pocket battleship.
See ya...