27 April 2003, Kihikihi

CLUB MEETING

Well,
Finally, back on the track...
12 Ltd Saloons turned up on an overcast, but hot day at Kihikihi Speedway today.
1st race saw me draw grid 4. A great start saw me take the lead for the first lap until I was overtaken by 17M Tony Heuvel and on the next lap by 69M Jeff Barron. Unfortunately I was laying down a major smoke screen again, but I still managed to hold on to finish 3rd. A great finish for my first race back in a while....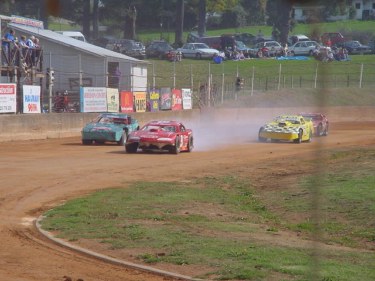 2nd race, I was on grid 7. Another good start saw me up into 3rd place again, where I stayed for 8 laps before "over doing it" on turn 1 and spinning out. The smoking problem was better thanks to some help from Craig (Peg Leg), but still there, so I pulled to the infield and decided to call it quits for the day.
All in all a great day with some excellent racing on a tricky race surface.
Next planned outing will be on 11 May at Kihikihi, where I will be returning a favour to my Major Sponsor "Waikato Sandblasting Services Ltd".
See ya there...