1 February 2003, Bay Park

"UNOFFICIAL" NZ LTD SALOON CHAMP'S

Well,
Finally, after a week of hard work, I had installed a replacement (read as "budget") engine in the NLW Racing Camaro. Thanks to Ricky & John McDonald for their help.
36 Ltd Saloons arrived to contest The "Unofficial" NZ Ltd Saloon Champ's.
Upon arriving at Bay park I was placed in Red Qualifying Group. There were to 2 qualifying groups (Red & Blue) from which the top 10 would qualify and then a repercharge for the top 6 to qualify for the 30 lap NZ Champ's final.
This had changed by Drivers briefing and while there was still 2 groups, the top 13 from each would now qualify for a 20 lap final. No repercharge!
After some discussion, between drivers and officials, it was decided that "all" mobile cars would automatically go through to the final and the heats would be used to earn points for your "final's" grid position. The final would then be raced over 25 lap's.
Unfortunately the problems for the night started here, with the starter motor deciding it wasn't going to play ball... Thank god for the new car being manual and a lot of helpful "pushers" in the pit's.
OK, on to racing.......
1st Heat Red Group. I drew grid 3. (18 Cars)
Due to the starter motor problem I couldn't shut down on the dummy grid and due to numerous stoppages in the Blue Group's 1st heat, the engine temp was pretty warm heading out on to the track.
Finally, out we went and gridded up. Got a great start (or so I thought...lol) only to watch most of the other cars fly past me. Damn, I was seriously under powered with my "budget" engine. Oh well, couldn't say I was surprised, after all it was to be expected.
Anyway back to racing, car was handling like a dream, set up was perfect and I was able to sit on the rear of the field and slowly pick off the slower cars, 1 by 1. Unfortunately, there was a MAJOR oil leak under the bonnet and I was throwing up a smoke screen from hell!!
After watching the oil pressure rapidly drop and the temperature rapidly rise I was very, very glad to see the chequered flag and limp back to the pit's. Result a very credible 11th place with a fastest lap time of 19.50 sec's.
After checking it was found that oil was leaking from either the crank seal or the front timing chain cover... Oh well nothing I can do at the track so a quick refill for the sump and a clean and we were read to go for heat 2.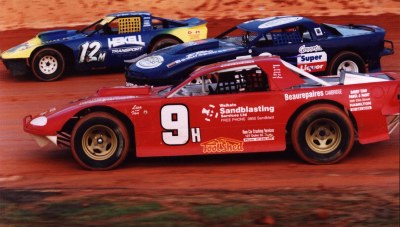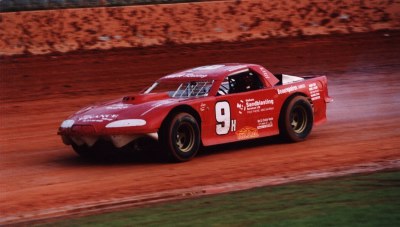 2nd Heat Red Group. I had grid 16. (17 Cars)
More of the same, unfortunately. Starter motor kaput and heating up on dummy grid while waiting to go out.
Took my place at the rear of the field and enjoyed another good start. Picked up a couple of places straight away and again continued to belch smoke. I must admit I was looking for the dreaded "black flag" every lap...lol
Finished 10th with a fastest lap time of 19.35 sec's.
I had definitely done enough to "qualify" for the final, which was my primary goal.
The car was still handling superbly and it is a pleasure to finally drive a race car with "Full & Total" confidence...JUST WISH I STILL HAD THE HORSEPOWER TO GO WITH IT!!!!
After a top up in fuel and oil and a brief visit from a speedway official asking about the smoking problem, we were all set to go for the 25 lap final.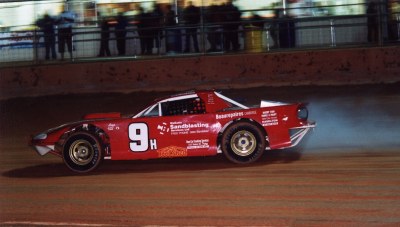 The Final - "Unofficial" NZ Saloon Champ's. Qualified 21st ( 25 - 27 Cars??)
After the first two heats cooking in the dummy grid, I saw a tractor in the pit's and turned my car off. I attracted the attention of an official who sorted out a push...
Out I went on to the track and was surprised to see two cars that I had beaten in both heats, from my qualifying group, ahead of me on the grid. Oh well, no time to query that now, so off we went!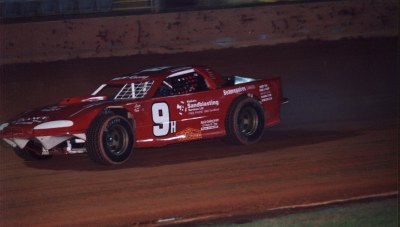 Car was again handling well and I was attempting to pass a straggler when he spun in front of me. I managed to avoid him, or so I thought, until he rolled back just enough to catch my car sending me into a wicked spin. The tractor crew arrived to take me off the track and upon exiting the vehicle on the infield, I found that both right hand side rims and tyres were knackered, the steering broken and axle bent...Shit!!!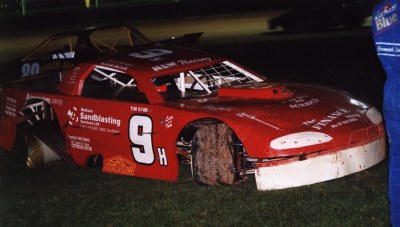 All in all, a great night and it was a pleasure to finally get in some lap's...
Congratulations to Paul Roia 24M (1st), Phil Towgood 48M (2nd) and Steve Walling 99M (3rd).
Thanks to the tractor drivers for their help.
Next meeting 8th Feb Huntly speedway....if I can get the car fixed.
Thanks to all my sponsors, for your help.
See ya...