27 October 2002, Kihikihi

OPENING MEETING

Well,
Finally, the NLW Racing Team headed to Kihikihi, for their Opening Meeting.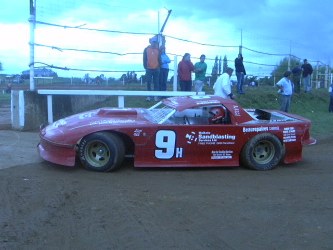 A HUGE THANK YOU TO ALL OF MY SPONSORS, FRIENDS AND OTHERS WHO HAVE HELPED MAKE THIS POSSIBLE!!!!!!!
Five Ltd Saloons fronted, 83H Nigel Harlem, 86H Nepia Anaru, 9H Nigel Wilton, 61M Mark Orchard & 78M Sorry???. Numbers were disappointing, but to be expected, given Bay Park opened last night, so it was good to see two Bay cars make the effort. Good on ya guy's!!
First race, I was a bundle of nerves as I had no idea exactly what the car was going to do. I decided to start off the back, just in case. The car handled beautifully!!! Thank you to John McDonald for the set up. Unfortunately, the car was missing, but still felt heaps more powerful than the old car. A small fire under the bonnet was an interesting aside, as well.
Back to the pits after placing 3rd, to find that oil had sprayed onto the headers from the breather holes in the tappet covers. Duct tape is not sufficient to keep oil in!!!! Yea, I know you are saying "What an egg (or worse)" but I basically forgot to get the plugs!!!!
After taking off the distributor cap, we found that 1 set of points was completely burnt out and melted. Thanks to Johnny 5 for a quick adjustment of the remaining set of points so we could go out in the next race.
Second race, I started off the back again. Five cars this time. Got a good start and moved up to third and basically stayed there until the end. Smoking and fire problem again, but at least I was less concerned than the officials who (correctly) got a little nervous about the events under my bonnet.
Third Race, Started on pole and was only passed by the two Mount cars which were pretty damn quick.
All in all a great day out. Glad to be back on the track and racing again.
Thanks to Big Ive and Ricky for their help on the day.
Roll on next Saturday at Huntly for the Fireworks meeting.
See ya...