Building Camaro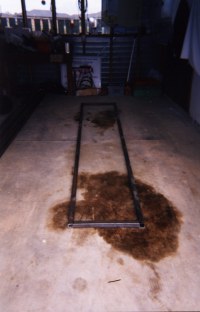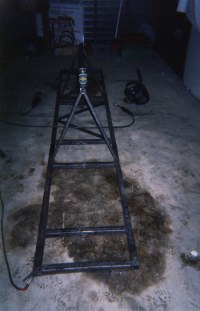 Where it All Started in 1997 and Time For A Beer!!!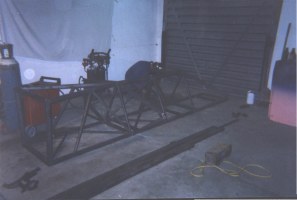 Mystery Welder Hard at Work.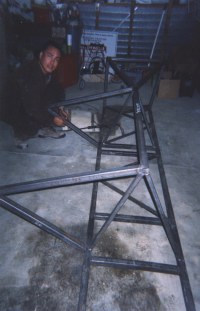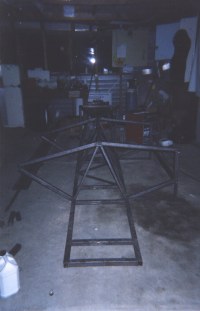 Chassis Developing. Ready to complete Roll Cage.
Back From 8M Geoff Fletcher's, Where We Copied His Roll Cage.
22 May 2001
Started work, in earnest, on new car. We tacked in the front suspension, located the fuel tank and tacked in the caps for all of the exposed chassis rails. Will be welding, fully, all of these components in on Thursday. Car is coming together slowly.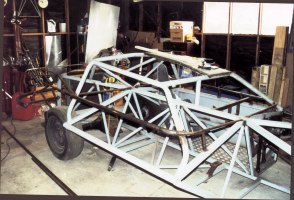 Front of Car. Right hand side.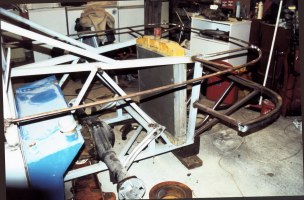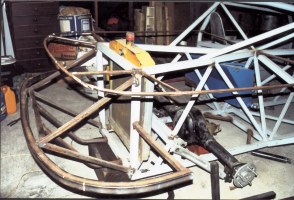 Left Rear Chassis. Right Rear Chassis.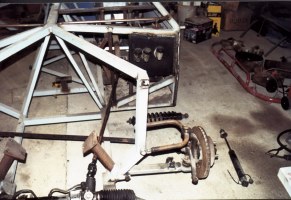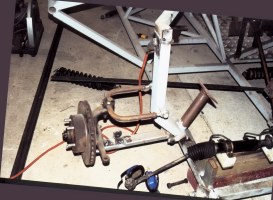 Left Front Suspension Bare. Right Front Suspension Bare.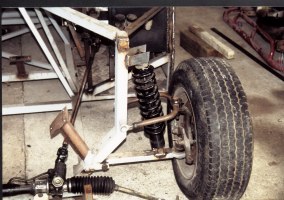 Left Front Coil Over in Place. Right Front Coil Over in Place.
24 May 2001
Yippeee!!! The car is now mobile with the front suspension all welded in. Using coil-overs front and torsion's rear. Welded in the last of the supports for the roll cage / chassis. Petrol tank mounts in, holes cut for water lines, big moves.
See you at the Huntly Swap meet this Sunday.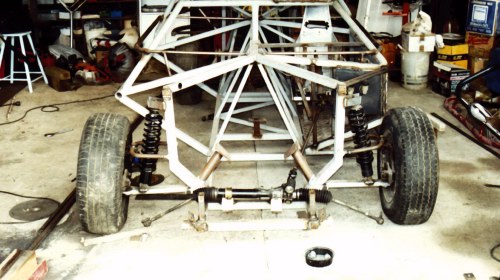 Here is picture of car on all 4 wheels for the first time!
30 May 2001
Picked up the driveshaft for the new car from Peter at ATL Balancing. BLOODY GOOD JOB and A REASONABLE PRICE!!!!! If anyone wants driveshaft work done or gearbox and bellhousings made to fit "anything" give Peter and call and tell him you got his details from my site, please, you may get a discount?? Ph: 07 847 9182.
8 June 2001
Front bumper now all tacked in. The car is really taking shape. Got a smaller fuel tank which fits perfectly in the "V" of the rear chassis. Alloy has been purchased and the 'filling in stage is rapidly approaching. Radiator mounts and water pipe accessories to be welded in and the car will be stripped to go to Waikato Sandblasting for blasting and painting. Can't wait!!!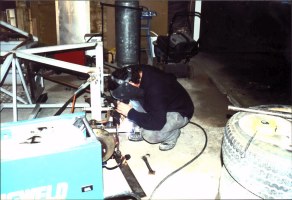 Barry Tidd hard at work. Thanks' Mate!!!
30 June 2001
Front Bumper now fully welded in, panard bar 3/4 completed, 5th arm to be done next week. Bloody drill @#$# itself and so I am waiting for it to be repaired. Body now fitted and looks the part. Getting sick of taking it off and on though!! Chassis should be off to sandblasters next week, all going well. THANK YOU BARRY!!!!!
14 July 2001
Chassis still not at Sandblasters as we are still putting finishing touches to it so we don't have to grind paint off to weld extra bits on.
Panard bar and fifth arm now completed. Fuel tank completed.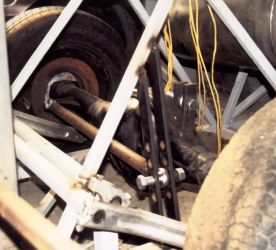 Panard bar fitted. Fifth Arm diff mount can also be seen.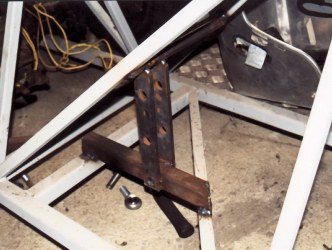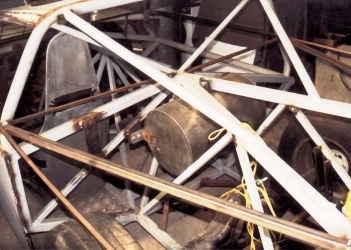 Front mount for fifth arm. Tank fitted. Seat Belt mounting plate also fitted.
23 July 2001
Seat belt mounting plate welded in. Front windscreen mesh/grill welded in.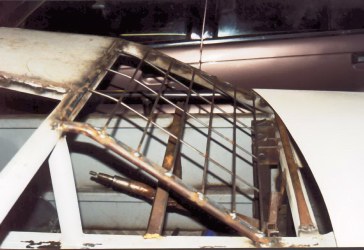 Front mesh grill fully welded in!!!
26 July 2001
Radiator mounted and sway bar purchased from Kevin Moore. Not far to go now.
Radiator fitted.
4 August 2001
Only sway bar assembly, rear shocks and driveshaft hoops to be welded in and the car will be off to sandblaster. We shortened the left hand front bottom arm by 2" and I have to remake the top A-arms, on both sides to allow the wheels to reach full lock. O'Halloran joints are a godsend when you have to remake something. Just take it apart, cut, grind and re-weld. Bloody marvelous.
ONCE AGAIN A HUGE THANK YOU TO BARRY FOR HIS ASSISTANCE.
18 August 2001
Rear shock's in, 5th arm made and fitted, driveshaft fitted, looking good!! Only sway bar & drive shaft hoops to go. I have taken photo's, just need to develop and scan them.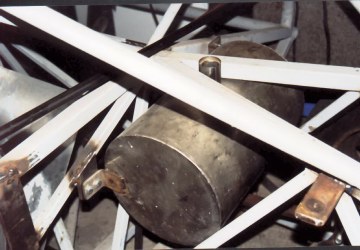 Bottom right hand corner shows shock mount.
2 September 2001
Minor/major problem with diff, didn't have it tilted back far enough when originally fitting panard bar and fifth arm. I have had to cut off diff mounts for panard bar and refit. I have had to lengthen the fifth arm.
Drive shaft hoops made and fitted, sway bar assembly fitted. I have ground off all of the sharp edges, for safety. The car is now ready for the sandblasters.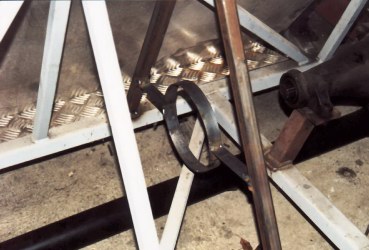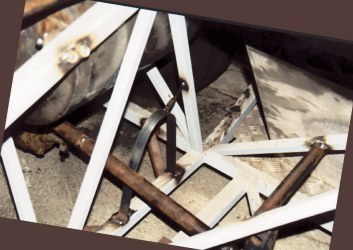 Front drive shaft hoop fitted. Rear drive shaft hoop.
Fifth arm lengthened and fitted.
6 September 2001
Wheels arrive Saturday. Special thanks to Addis Motorsport!!! Fitted the front spoiler/skirt last night. Also fitted reinforcing/lift bars on front and rear bumpers. I trust everybody else's rebuilds are going well.
See ya....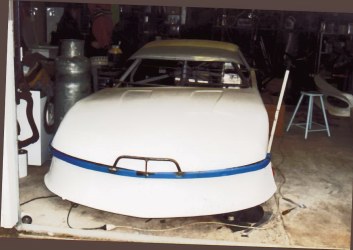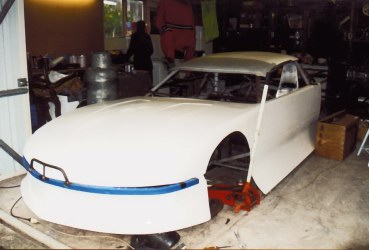 Front bumper reinforcing and spoiler fitted. Body Shot???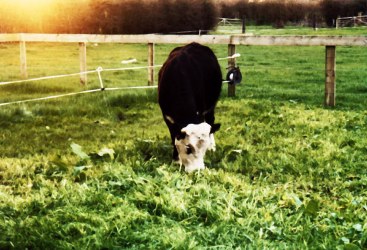 Cow eating grass!!!
10 September 2001
Wheel's didn't arrive on Saturday!!!! Made and fitted new A-Arms. Car now ready for sandblasters. Photo's now ready too. Look and enjoy???
See ya...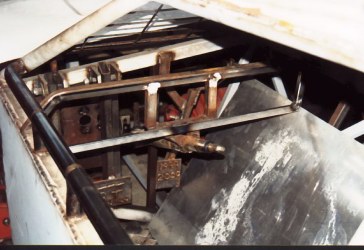 Dash Board and Pedals.
14 September 2001
Car went to Waikato Sandblasters last Wednesday. Ready Monday!!! I'm using this time to fully weld all of the diff mounts, shocks. panard bar, etc. I'm also welding on the rear brake mounts. Barry, at Frankton Mechanical, has the diff head to change the gears over to 6.5 ratio. Alloy will be fitted next week along with the body and then back to Waikato Sandblasters for painting. Yippeee!!!
16 September 2001
Wheel's arrived today. (Thanks' for your generosity Graeme!!!) Rear brake mounts welded onto diff. Need to put diff head with new gear ratio back in and it can go to sandblasters along with wheels.
21 September 2001
Picked up car from Waikato Sandblasters last night. Looks good!!!!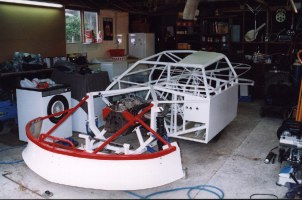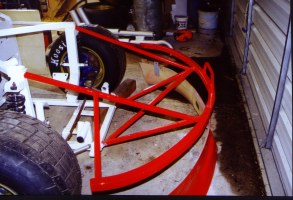 Chassis Painted
Pick up wheels Tuesday.
Changing gear ratio in diff head turning into a minor/major headache. CROWN WHEEL DOESN'T FIT!!! Have to machine out casing to make it fit.
Catch ya....
27 September 2001
Picked up wheels on Tuesday. They look bloody fantastic, thanks' to Addis Motorsport & Waikato Sandblasters. Porry has now inspected and stamped them. All legal!!!!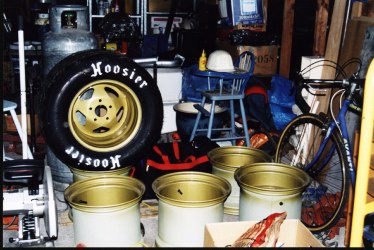 Rim's Painted, Stamped & 1 Tyre Fitted
Have borrowed a block and heads to fit exhaust system. Thanks' Ivan for your help in fitting that last night!
Painting top and bottom arms, hubs and steering arms. Fiddly, time consuming job, but will be worth it in the long run.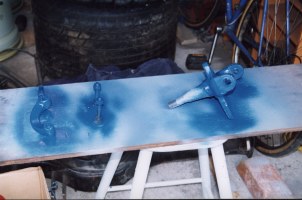 Hubs, Stubs & Steering Arms Stripped Down & Painted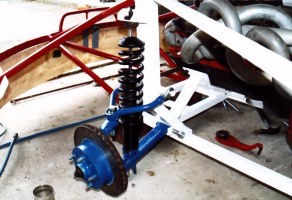 LF Suspension painted and in place.
Engine still not done, but heads are away being flow tested, for free, so can't argue with that. Cam choice will be more accurate given the flow test results. Thanks' Jim!!!
Diff head gears are still causing trouble. Can't seem to get them to fit, if anyone reading this has had similar problems fitting 6.5 ratio crown wheel in their 9" diff head, please e-mail me with how you did it!!!!! Done!!
Well back to it again......
18 October 2001
Sent Diff head to Tony Rattrie at Steelie gears to finish assembly. Hope to have it back before the weekend. I won't hold my breath though!!
5 November 2001
Diff Head was completed on Friday. Will arrive tomorrow.
Fitted all my tyres to rims. What a bloody mission.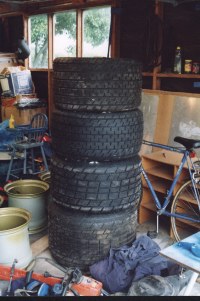 Some Tyres Fitted.
12 November 2001
Fitted diff head last night. Rubbed down bonnet, ready for painting and delivered both to Waikato Sandblasters this morning for painting.
Headers and exhaust system made & fitted. Thank you to Johnny 5.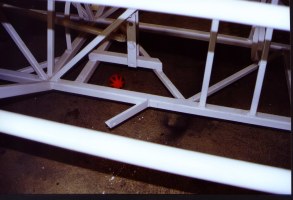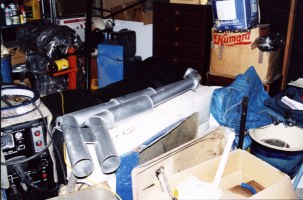 Rear Exhaust, Exhaust Bracket & Front Fifth Arm Mount
Getting there painfully slowly!!!
24 November 2001
Bonnet, roof, front & rear pillars painted, just side & rear panels to go. Body all fitted and wheel arches cut out. Looking good!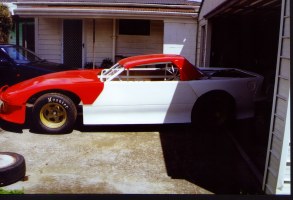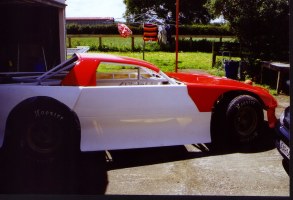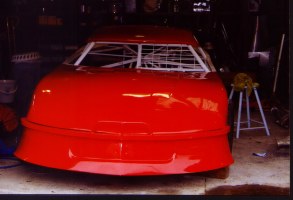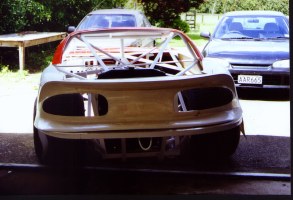 Fitted Diff under rear of car. Refitted axles, shocks, fifth arm torsion's, etc.
Diff Mounted. Shocks and Wheels Fitted.
Sold trailer!! Barry building new one. Tandem, tilt this time. Slightly wider inside deck to allow for bigger car.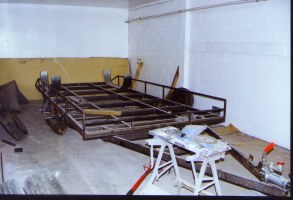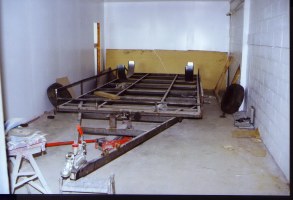 Trailer Under Way...
28 December 2001
Photo's added of progress, to date. Picked up trailer from sandblasters today. All painted, just needs deck and ramps. Picked up engine from Jim at
Cambridge Engine Services
on Christmas Eve. Lovely pressie for me!!!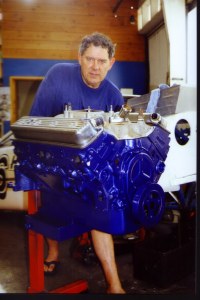 Jim & New 355 Chev
18 January 2002
Alloy well on its' way with most of the car done. Special thanks to Glen for your help. Starting to really look like a race car now. Will paint gearbox & bell housing over weekend in readiness for dropping engine and driveline in.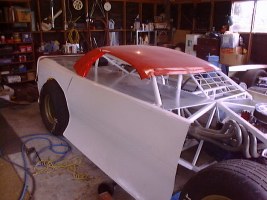 Most of Alloy Fitted
10 February 2002
Gearbox & bell housing painted. Dashboard alloy done, just need to fit gauges. Brake & clutch master cylinders in, just need to attach accelerator, brake & clutch pedals. Steering all completed. Shifter & linkages made up for gearbox. Diff completed and filled with bloody expensive synthetic oil, but I am told by the experts that this is the only way to go, if you want to do the job right!
25 February 2002
Thank you to Porry & Barry for the rev up. Thank you MacGor for your e-mail.
Barry & I put the complete driveline in tonight. Engine, Gearbox, driveshaft, etc. Motivation is coming back.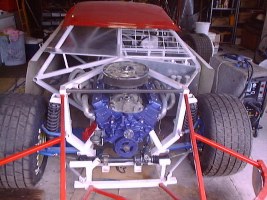 Engine In, Yipeeeeee.
27 February 2002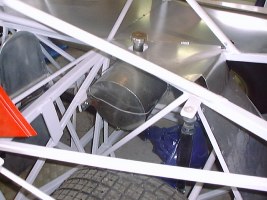 Petrol tank fixed and refitted.
11 March 2002
Fitted shifter and linkages to gearbox last night and tonight and have added some photo's of previous work.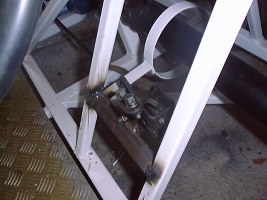 Shifter Fitted & Driveshaft Showing
16 March 2002
Refreshing front brakes with repair seal kits.
30 March 2002
Since my last posting I have fitted all gauges, battery box and completed all of the wiring. Started to fill in alloy on inside of car. Dash board complete. Just brake lines and clutch line to fit. Special thanks to Barry Tidd for a hand last Monday night, making up the clutch slave cylinder mounting. Cheers Bazza.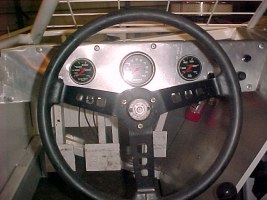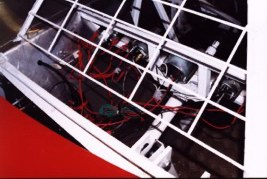 Dash Board Showing Gauges & Wiring, Steering Wheel & Pedals.
(Autometer Liquid Filled Gauges & Autometer, In Dash, Tachometer)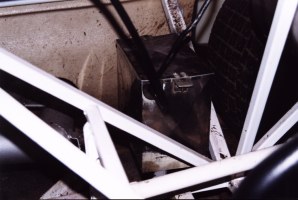 Battery Box Fitted.
17 April 2002
Busy couple of weeks since last update. Have now installed brake & clutch lines. Fuel lines in. Have fired up engine. Gearbox oil added. Have tested clutch and had to remake push rod as the car wouldn't go into gear. Made rod 1/2" longer and now works perfectly.
Did some machining on the shifter so that it now works smoothly. I decided that after all the hard work so far I wasn't going to leave a little job on the shifter undone. (I was being fussy, again, in other words!)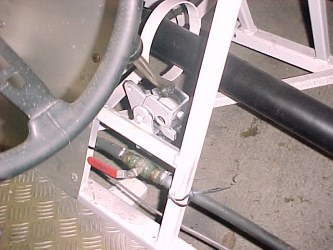 Shifter Cut Down & Fuel Line Fitted.
Have fitted fan's to the radiator. Thanks to Frankton Auto Spares for the fans.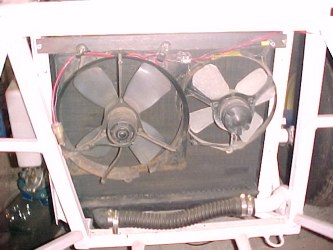 Fans!!
Have driven car in and out of garage, but have a problem water leak which needs to be fixed at the front of the engine. Will fix that and then the first test drive around the house will take place.
Too late for this season, but car will be ready to go for opening night, wherever, next season.
Yippeeeeeeeeeeeeee!
4 May 2002
Car has been out of the garage and around the house, for the first time, under it's own power. Everything seems to be fine.
20 May 2002
Fitted the power steering pump tonight. Just need to get hoses made and then all that will be left is alloy, sway bar finding out why rear brake doesn't want to work.
Alternator, Powersteer Pump, Pulleys & Belts Fitted.
Purchased Paint to finish painting the car. All go.......................!
2 June 2002
Power steering hoses fitted and working. Did some hot laps around the house and I was amazed to find everything worked. More to do tomorrow.
13 June 2002
Have welded in plates under floor pan for seat & seat belts to bolt to. Welded in bracket behind headrest for seat to bolt to and , guess what??? The seat is now bolted in. LOL.
Added an expansion tank bottle for radiator to hopefully stop water spraying on track when car is hot and to save the preciously expensive antifreeze!!!!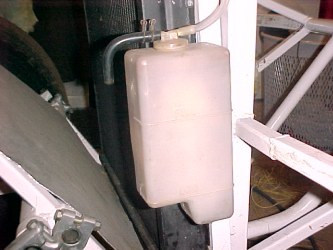 Expansion Tank.
Bonnet mounts and right side panel mounts all completed. Body can now be locked in place and is ready for final painting.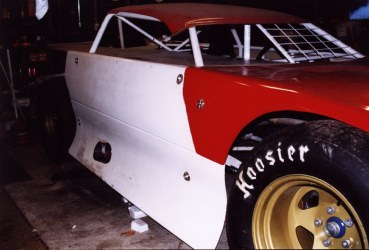 Right Hand Panel Fitted, Bonnet Catch & Exhaust Trimmed to Fit Body Line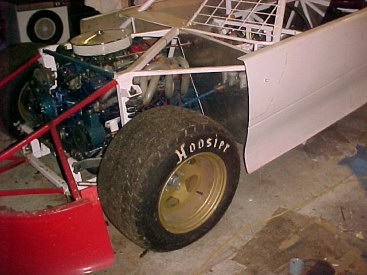 Left Hand Front & Side of Car.
I will be replacing rear VN brake caliper with an alloy HQ caliper. Reason rear brake wasn't working was something to do with the master cylinder size being too big for the caliper or the other way around. Something like that anyway???
Only alloy and sway bar mounts on bottom arms to go after that and the car will be completed.
19 June 2002
Welded on Bonnet catches to front bumper and polished up, painted & semi-fitted new rear brake. I now have HZ Holden, Alloy, Girlock brake calipers all round. Just need a new seal kit to mount and bleed. Hopefully the bloody thing will work better than the VN caliper I had.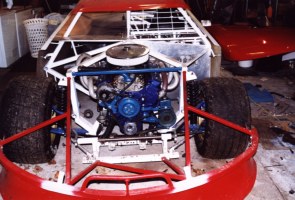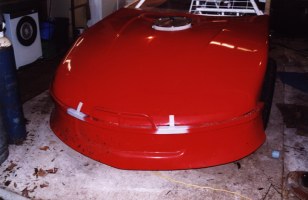 Front of Car, Engine In, Bonnet Catches Welded On.
1 July 2002
Bloody rear brake still won't work properly. I've broken of the bleed screw in the caliper and snapped off the "stuck bolt/screw extractor" as well. Can't drill out the bleed screw because the extractor tool is hardened steel. BUGGER!!!!!!!!!!!!!!!!!!!!
I'm pretty sure the problem lies with the mounts for the caliper being about 5-10mm out and the brake caliper isn't working efficiently, accordingly. I'll just have to cut off the mounts and re-weld them closer. Who ever said building a new car was fun???????
Started fitting brake lines to my new trailer tonight. Another bloody mission!!!!!!!
28 July 2002
I have acquired another alloy brake caliper and have cut off the mounting bracket on the diff to reposition it 5mm closer to the disc. Hopefully the bloody thing will now work. Have bent the sway bar arms to fit and have made brackets to be welded on to bottom arms.
Just alloy, belts and window net to go.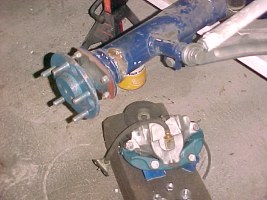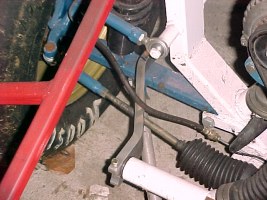 New Alloy Caliper & Rear Brake Mount 'Cut Off' and Front Sway Bar fitted.
31 July 2002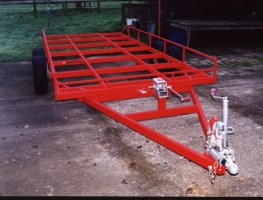 I have also been working on my new trailer. I have put the brake lines in and only need the deck, tyre guards, ramps and tyre rack to complete.
5 August 2002
Believe it or not, a couple of new photo's added and some replaced with better ones.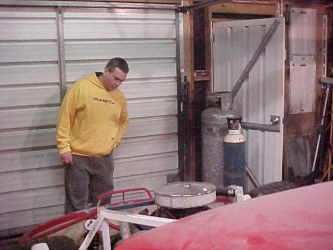 Just Me checking out the front of the car.
14 August 2002
Finally bought new rear brake rotor, BLOODY EXPENSIVE, but perfect, bolt on, part.
Barry came over last night and etched and primed the rest of the body panels, ready for painting next Monday night.
Deck added to trailer, just need ramps, guards, wiring , rego & warrant!
18 August 2002
Rubbed down panels tonight in preparation for top coats tomorrow night, yippee!!!!!!!!
THANKS BARRY!!
Will then shift car to new address and put finishing touches to it.
20 August 2002
Car now painted. LOOKS BLOODY FANTASTIC!!!!!!!
THANKS AGAIN BARRY!!
22 August 2002
Assembled body tonight in preparation for shifting and loaded on to new trailer. Looks sharp!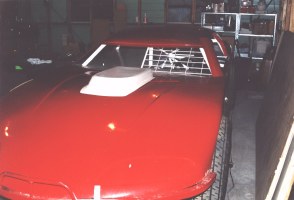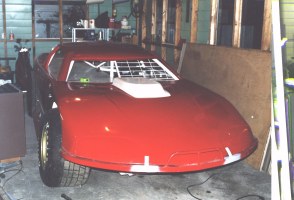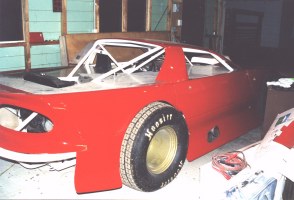 4 September 2002
Special thanks to Glen & Tash for their help tonight in getting the rest of the alloy put on the car. Car is now ready to go to the signwriter next week.
18 September 2002
Tonight Barry came around and welded in the rear brake caliper (Which now works brilliantly) and sway bar mounts. So that means the brakes are all done and the sway bar assembly is in and completed. Put the dashboard alloy in and fitted the fibreglass window pillars.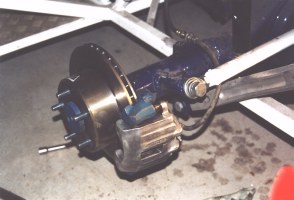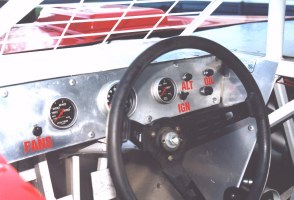 LR Brake Caliper Fitted and Dashboard all Complete & Signwritten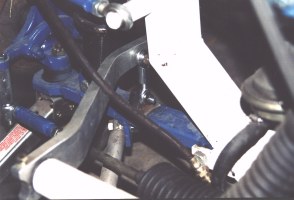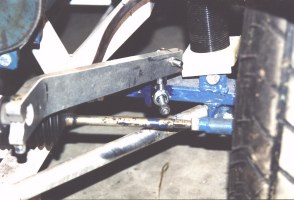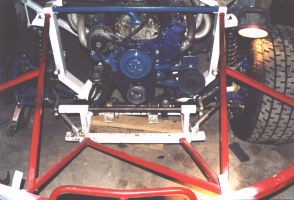 Sway Bar Assembly Fitted
Developed another problem!!!!!!! Where to mount the seat belt wrap around bar behind seat???? There is a chassis rail right behind the shoulder strap hole in the seat!!!!!!
15 October 2002
Still waiting to weld in seat belt mount behind seat. Still alloy to put in car. Bugger!!!
Just not enough time.
I have been working on the trailer the last couple of nights and that will be finished in the morning when my ramp mounts are welded on. Thanks Barry!!!!
See ya at the track Sat night.
23 October 2002
Car is at the Signwriters now and thanks to Barry Tidd, John & Nick McDonald we should be racing at Kihikihi this Sunday.
See ya there.
26 October 2002
Car all signwritten. Nick welded in last seat belt mount and John did basic set up to make things work tomorrow night.
Only got Window net, transmitter mount and radiator protection alloy to go for Saturday night.
27 October 2002
Welded in transmitter mount. Thanks Barry for the use of the welder over the long weekend. Bloody marvelous...
FINISHED!!!!!!!!!!!!!!!!!!!!!!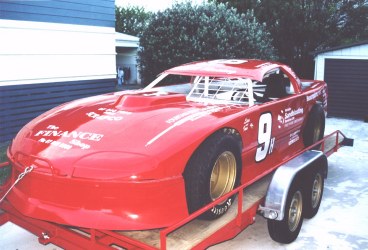 On Trailer Ready to Go to Kihikihi.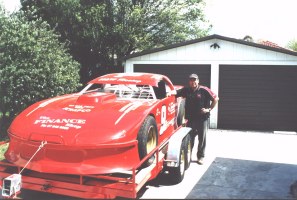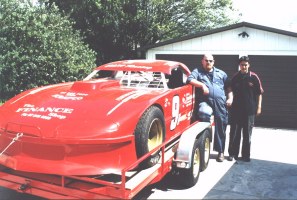 Nigel on the left, Ivan & Ricky on the right, before heading to Kihikihi.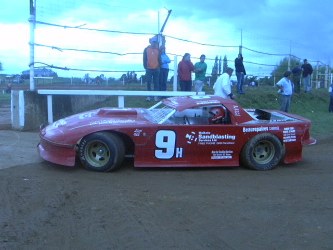 Here she is, heading out on to the track for her first race.
Kihikihi Speedway 27 October 2002.