What's Up...?

What I am up to during the season and off season, etc. ...
(N.B. The text is in reverse date order, which means the latest news is always at the start!)
24 November 2012
Well, a lot has happened since my last up-date in April.
But the big news is that I AM BACK ON TRACK, finally, making it out for the Guy Fawkes Meeting at Huntly on 3 November 2012. It wasn't a great night results wise, as the track was soaking wet in heat one and a first corner "coming together" resulted in a flat tyre and snapped rack end meaning I sat out the race on the infield and didn't come out in the Feature.
Positives: The car had power again, but hard to gauge how much given how wet the track was, and the same with the suspension changes and rebuild of the diff and rear end.
Negatives: The start of the 2nd race...
I will add photos , as I get them and hopefully have some in-car camera action to enjoy as well, as the season progresses.
I will also add photos of all the up-grades, and the rebuild of my 9" diff, done in the last year.
10 December 2012
Photos added from 3 November 2012. Thanks to David Woollett of Junior D Photography.
20 January 2013
Well what an awesome night at Huntly Placemakers Speedway last night. Finally got back out on track to see how the changes will affect the car and, man-o-man, did they work! Was also good to welcome Hope & her partner Sam to help crew.
First race, I started from grid 5. Car was fast, but handling only 95%. Track was a bit rough in turns 1 & 2, so was strugging there, but was happy to finish 5th in a 10 car field.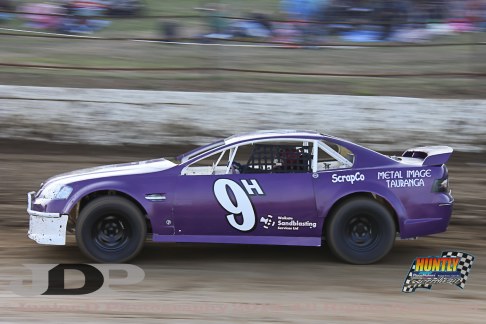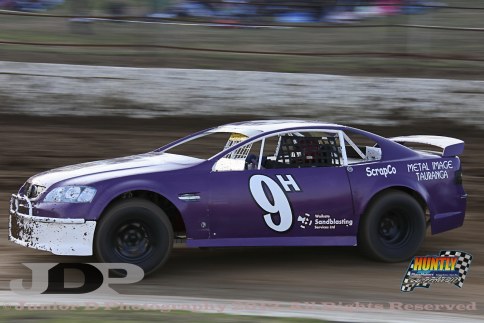 On Track, Race 1.
Race 2, I was on Grid 10, but didn't make the start as the car was jammed in first gear and wouldn't come out. Parked on infield wondering what it was I had to do to complete 3 races in a night. Aaarggghhhhh!!!!
Came back to the Pits and Sam spotted an r-clip on the ground under the shifters, where I had just been playing around with them. It was bent and indicated to me that the problem was simple. The shifter linkages were hitting each other, occasionally, so all I had to do was bend the outside shifter arm outwards, re-drill the hole the linkage goes through, as it had closed in during the bend, refit the linkage and insert a new r-clip. This fixed the problem and we were all set for the feature Race after dropping the panard bar down 2 inches on our newly fitted panard bar adjustment plate.
Race 3, I was on Grid 2, and I got off to a great start and led the race for the next 3 or four laps, before I went a little wide coming out of turn 4. This left just enough room for 67H, Scott Wilkins, to get up inside me. I left him racing room and he snuck past on turn 1...grrrrr... I then sat on his tail to the finish.
I was stoked with 2nd place and was absolutely stoked at how the car was handling. Finally, everything was working how it should, but I was in for a very big surprise as I went to leave the track...
Ammaron, the Flag Marshall, stopped me to say that 67H wasn't running a Lap Scoring Transmitter and because of that he wasn't actually counted, so this meant I had actually won my first race ever at Huntly. It may have been a technicality, but I was taking it!!! lol
I completed a lap with the chequered flag and had a smile on my dial a mile wide. Yeehah!!!!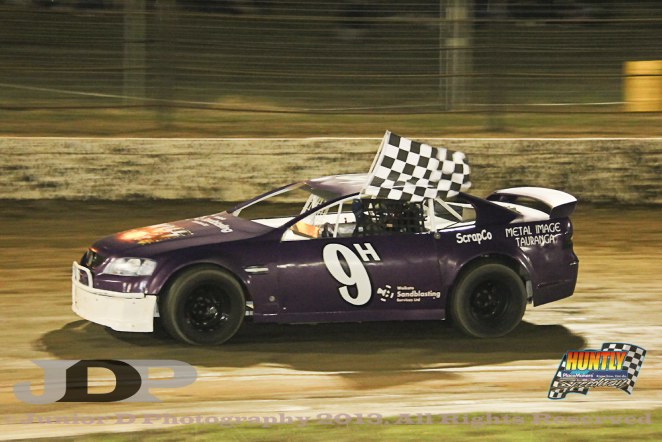 Feature Race Winner at Huntly Placemakers Speedway, 19 January 2013.
(Thanks to David Woollet for all Photos)
Lap Scoring Data, 19 January 2013
27 January 2013
I have updated the
up-grades
section, so you can see all the work done over the off-season.