Building VE Commodore

15 January 2009
Well since my last update I have completely stripped the car and removed the old roll cage as I have decided to now completely rebuild the car into a 2009 VE Commodore. Kinda made the earlier work redundant now... DOH!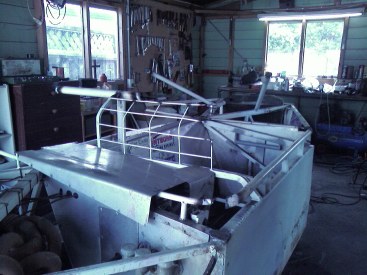 Roll Cage Going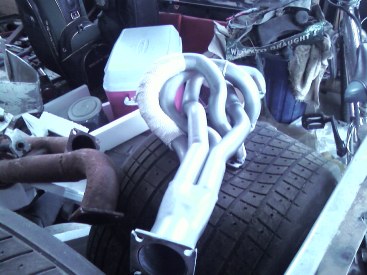 Headers repaired - Thank You Johnny 5
The rear torsion tubes were actually ripped off their mounts and crushed. No wonder the rear end wasn't working too well.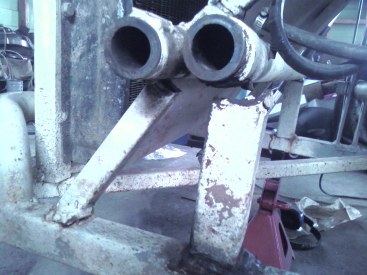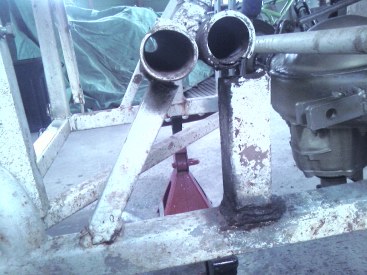 Tubes Ripped off Mounts & Crushed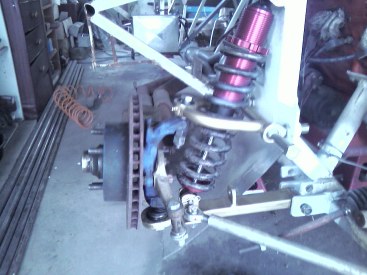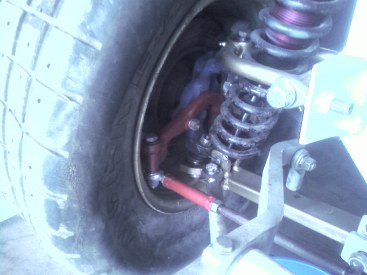 Right Front Suspension Rebuilt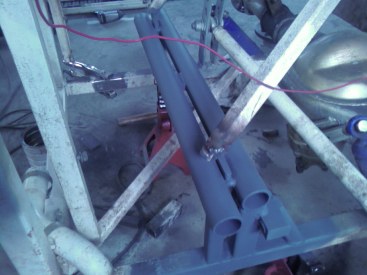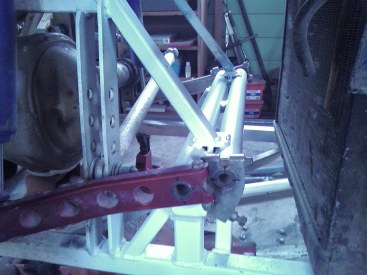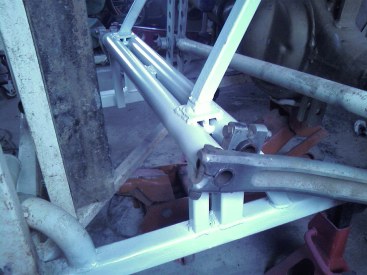 New Torsion's Made & Installed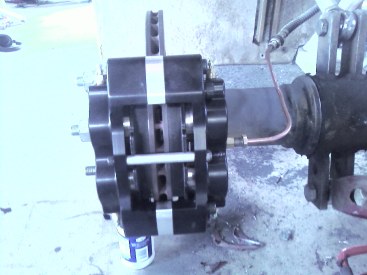 New Rear Outlaw Brake Caliper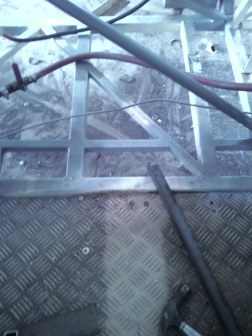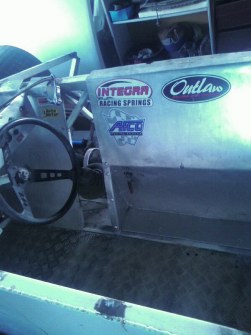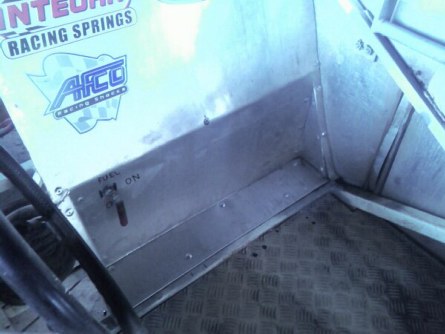 More Floor Space in Cockpit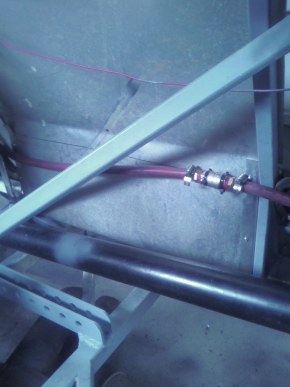 Fuel Line Moved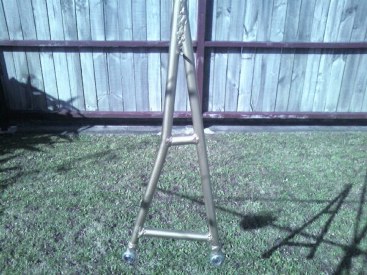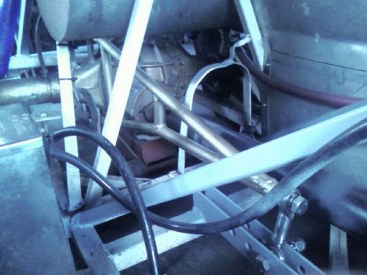 New Fifth Arm Made & Installed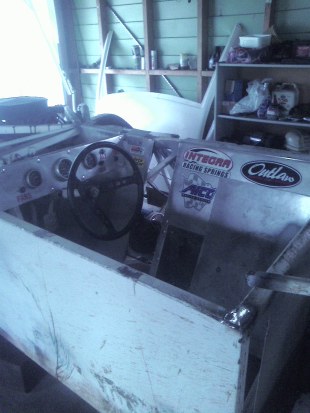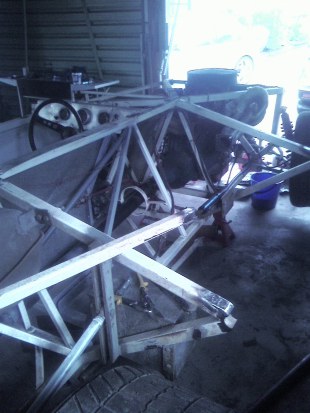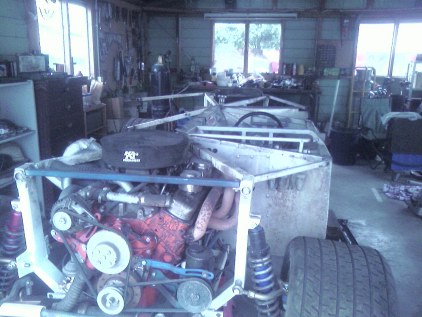 Roll Cage - All Gone
Car is back on all fours, with a new RF suspension and a new 5th arm set up.
Car looks like a convertible at the mo... lol
Thanks to Peter Kennedy, 91M Saloon, from Metal Image, who has kindly offered to assist my rebuild by fitting the new roll cage and new body. I will be taking the car over to to Tauranga next week for the make over.
30 June 2009
A progress visit to Tauranga saw some good work happening.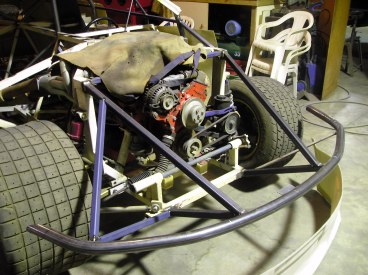 A Work in Progress...
13 July 2009
Car is back from Peter's workshop and is looking good. All that is left to do is add some runners for the alloy to sit on and then the car can be completely stripped out ready to go to
Waikato Sandblasters
for her Extreme Makeover...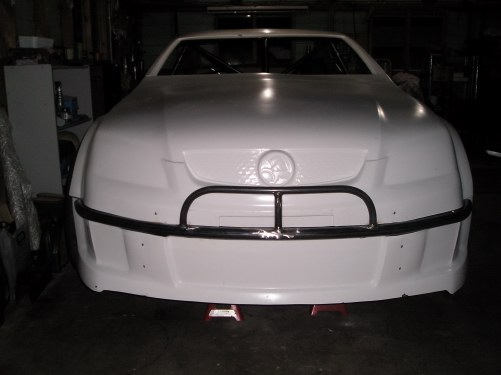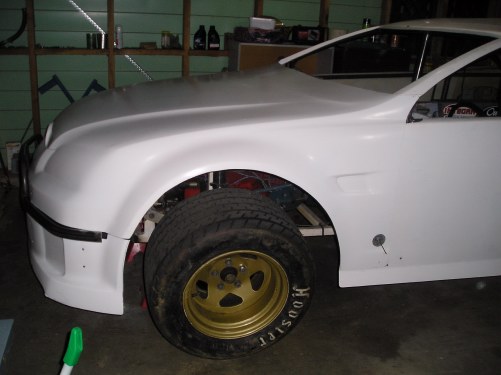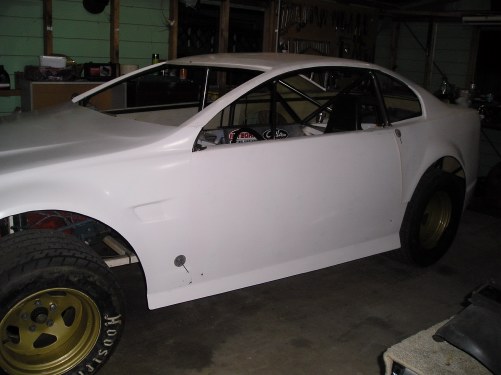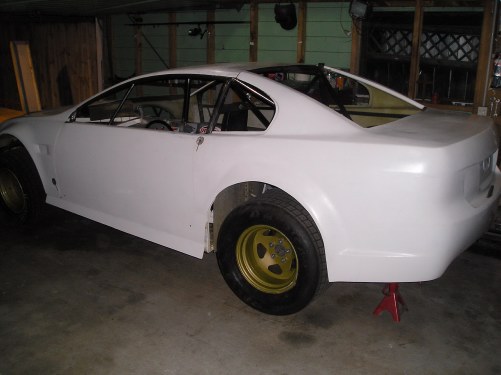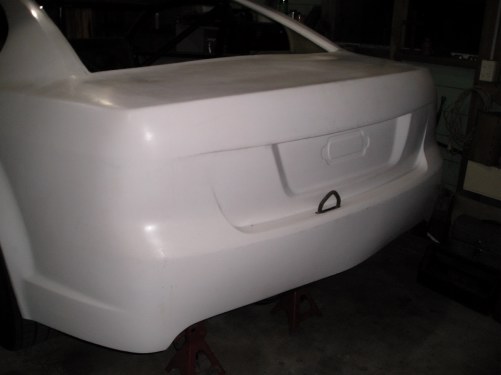 Body On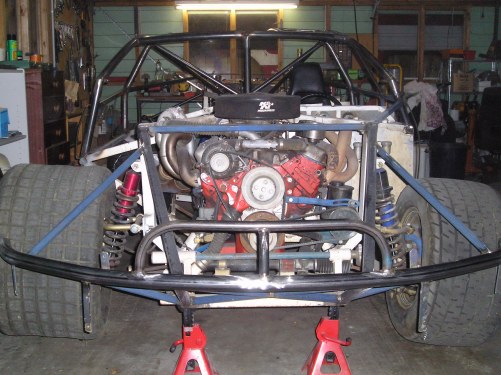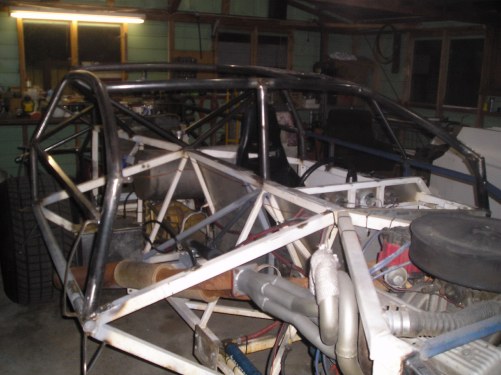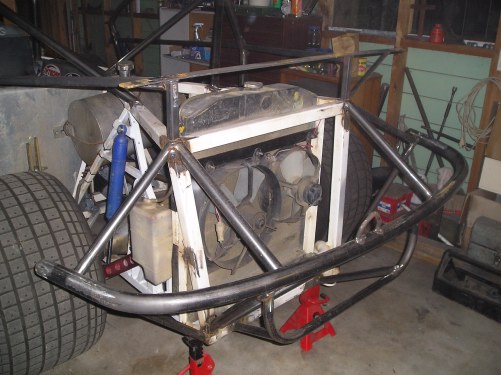 Body Off
6 September 2009
Car is now back from Waikato Sandblasting and is in the throws of being put back together.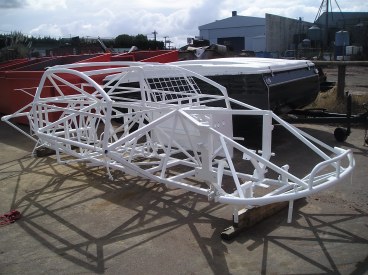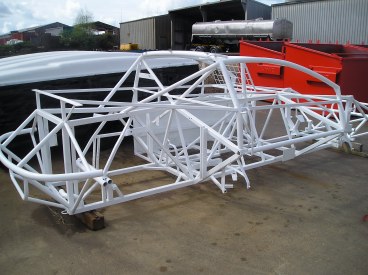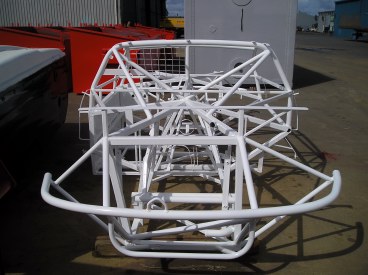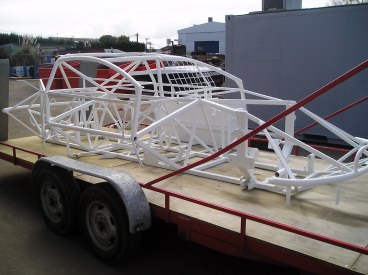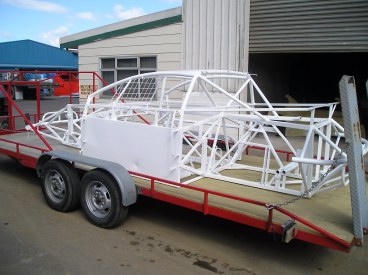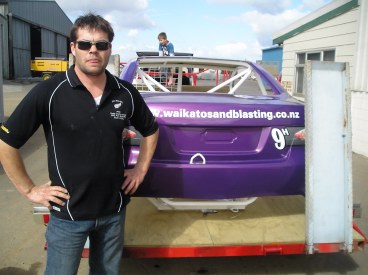 10 September 2009
Shane & Jordan Purser came over last night to help with some heavy & tricky items. Thanks Guy's.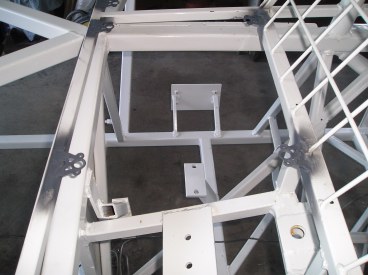 Dzus Clip Tags Welded In Behind Dash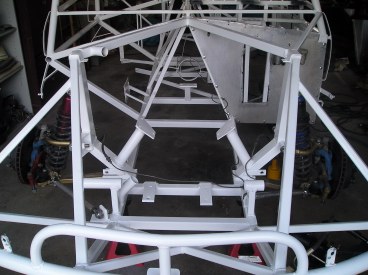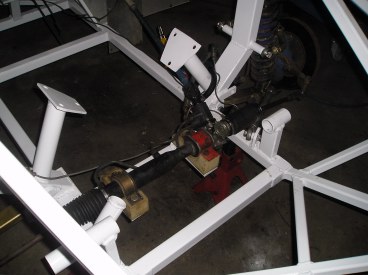 Front Suspension & Steering Rack Refitted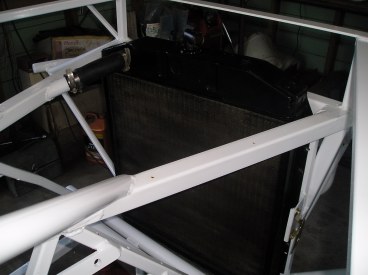 Radiator Back In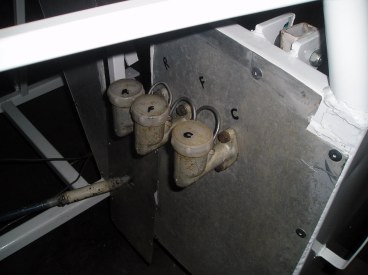 Brake Master Cylinders Back in and Plumbed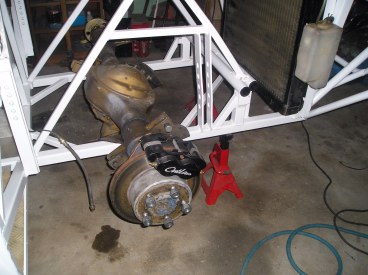 Diff Back In, Ready To Be Hooked Up
Battery Box & Gear Shifter Refitted
21 September 2009
Had a busy week and weekend on the car. Found that a few of my "little changes" have created the need for other changes, but such is life. I hope to have the engine back in on, or before, next weekend.
In the meantime, I have attached some more photos, fyi.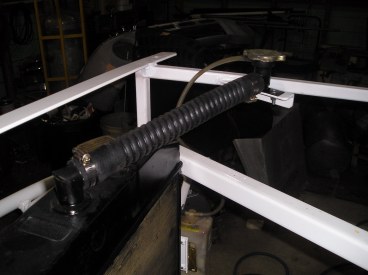 Radiator Remote Filler Fitted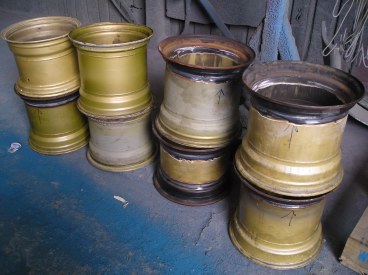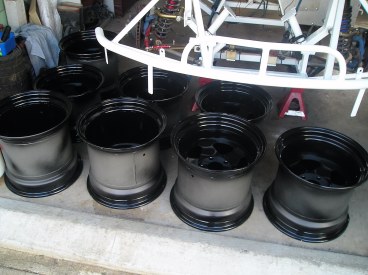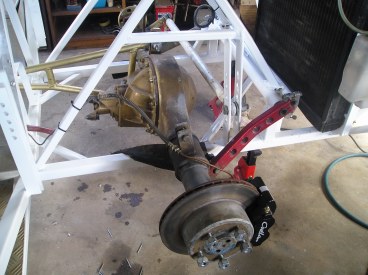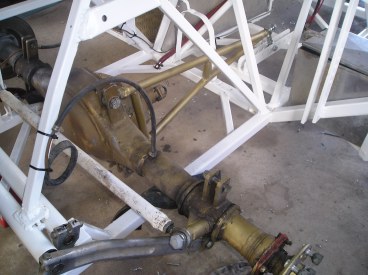 Diff and Fifth Arm Semi-Refitted and Brake Lines All Connected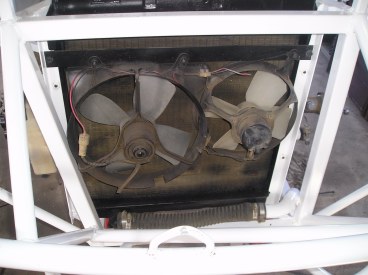 Fans Refitted
23 September 2009
I have attached some more photos, fyi.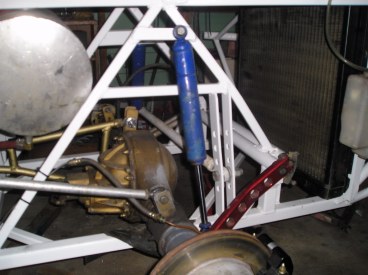 Shocks Fitted
Cockpit Paneling Back In Place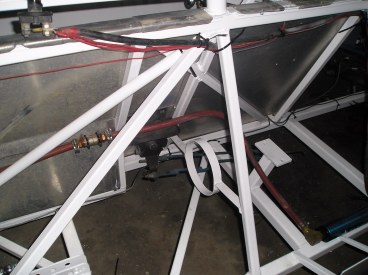 Wiring and Fuel Line Refitted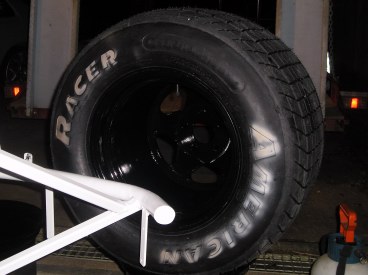 One Tyre Fitted To New Rim
27 September 2009
Another busy weekend in the garage. Thanks to Erin for his help in putting the engine back in.
I have attached some more photos, fyi.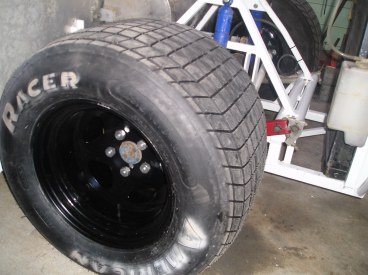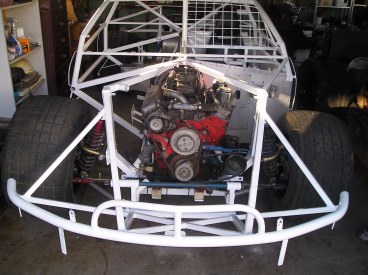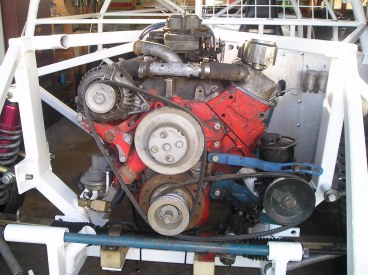 Back on Wheels and Engine In...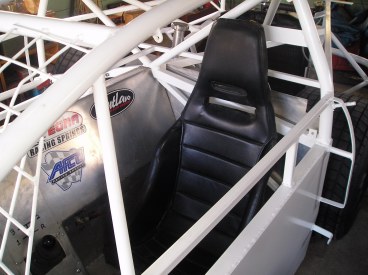 Seat Fitted
4 October 2009
Spent some more time in the garage at the weekend which accomplished some stuff and created some new issues.
Have refitted headers, which brought to my attention that the steering arm, from the firewall to the rack, now hits the headers. I will have to add another universal joint and lower the steering arm. Aaarrrrggghhhhh!
Otherwise, the starter motor and dash board instruments were refitted and the car all wired up again.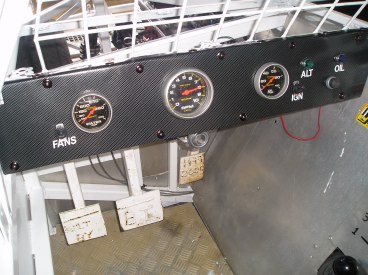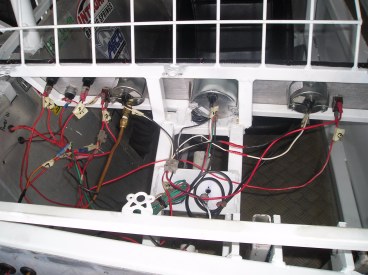 New Dash Board and Wiring Installed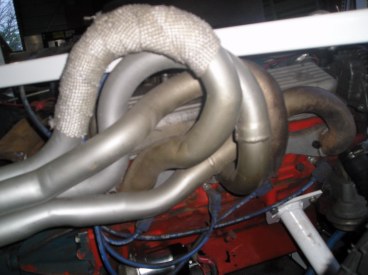 RH Header Refitted
15 October 2009
Almost finished. Thanks to John Clements of
Mobile Exhausts
for his work in re-jigging the LH Header to allow the steering shaft to function properly and for fitting new tail pipes allowing me to avoid having to cut holes in my side panel.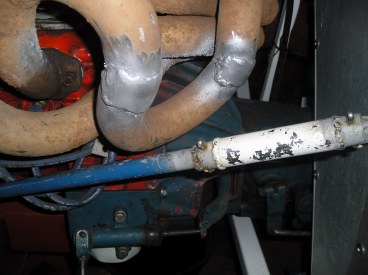 Before and After Shots of LH Header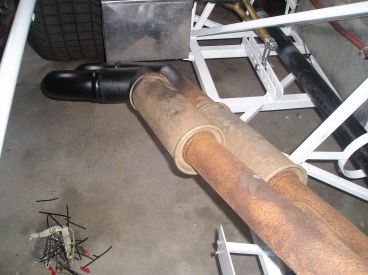 New Tail Pipes
I have finished refitting all safety equipment and flushed the engine, in preparation for an oil change and a test of the cooling system for leaks. Thankfully I located only 1 pin hole in the water pipe which was easily fixed and repainted.
The oil was then changed and a new filter attached. The water was dumped to allow the repair of the tiny hole and then refilled with anti-freeze. I run, pretty much, 95% anti-freeze in my car and have never had a problem with overheating. (Some may say I should put my foot down more...lol)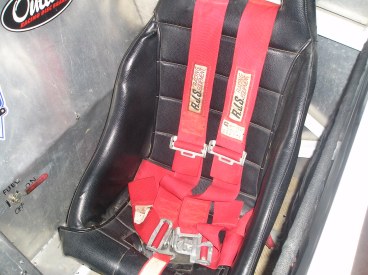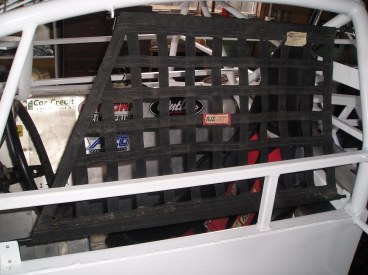 Seat Belts & Window Net Installed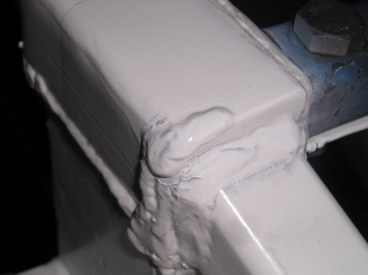 Leak Repaired and Repainted
16 October 2009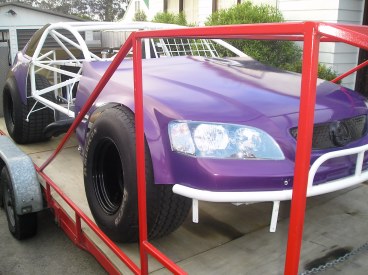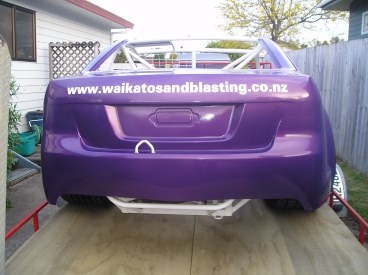 The Car Loaded Ready to go to McLeod Sheetmetals To Have Alloy Cut
23 October 2009
Picked up the car last Friday and man have Lala and his team done a great job of the panelling. All that is left to do is rivet them in place and the car will be 100% finished.
Off to Surfers with my son Ian tomorrow so hope Opening Night at Huntly goes well.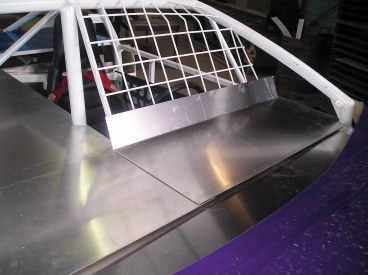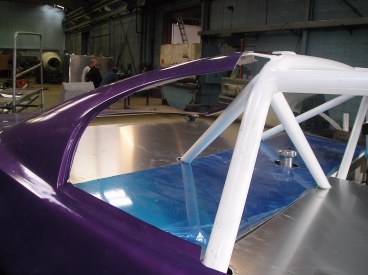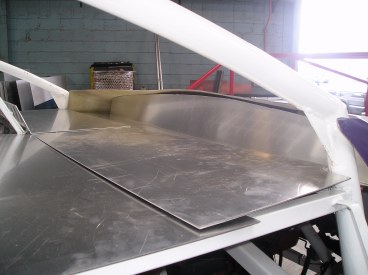 Alloy Cut And In Place, Ready To Be Riveted In
22 November 2009
Have now completely finished car. All that is left to do is paint the rear wing and set the car up ready for racing next weekend at Huntly.
CAN'T WAIT!!!!!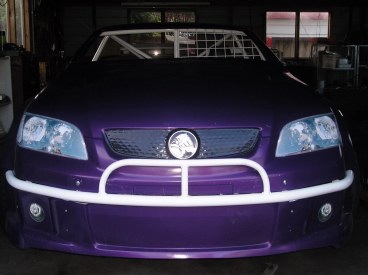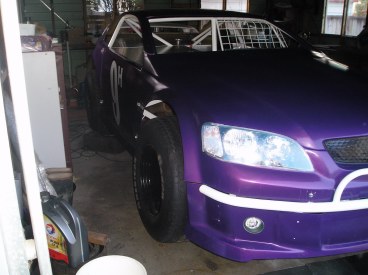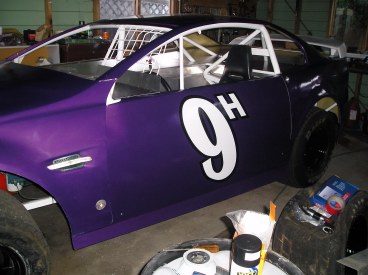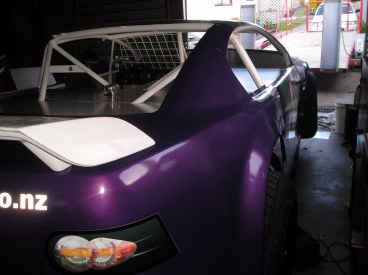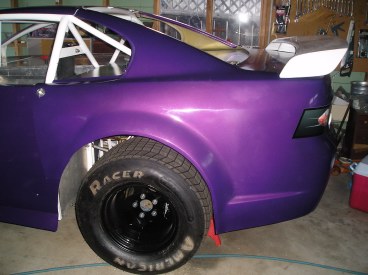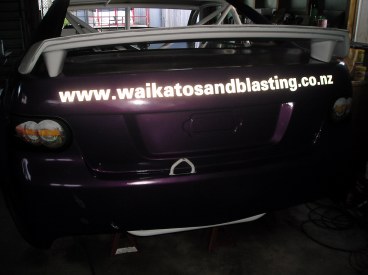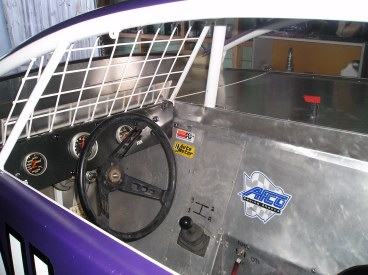 All done...
See you at Huntly on the 28th.
29 November 2009
Have now fully completely car, added most of the signwriting and the painted wing. Set the car up ready for racing last night and then the rain arrived and killed that idea.
Anyway, at least I managed to drive the car our of the garage and onto the front lawn to take some photos.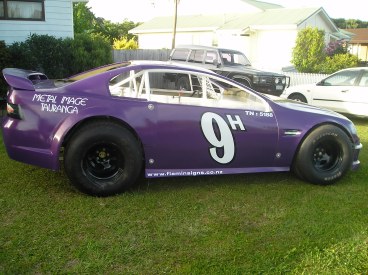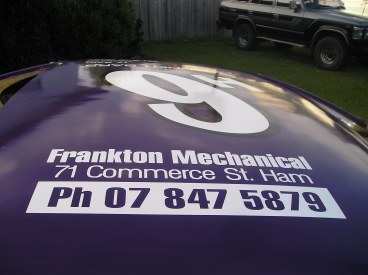 Looking Damn Fine, Even If I Say So Myself...