26 January 2008, Huntly

VALVOLINE - WAIKATO SALOON CHAMPIONSHIP

Well,
I was all fired up for this one, as the car is going well.
17 cars fronted for this event and with the hot weather the track surface was going to be interesting to say the least. We had to go out and wheel pack as the track was very wet, but would hopefully provide a good surface later on.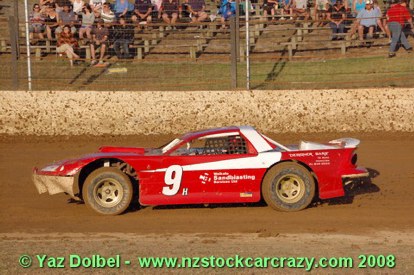 Out Wheel Packing
I drew grid 16 for heat 1 and had an uneventful race, but managed to pick up 4 places and finish 12th. This was the first time I had passed cars in a very long time and was particularly pleasing. Only negative was the track surface which was very rough!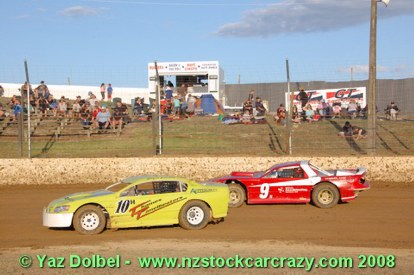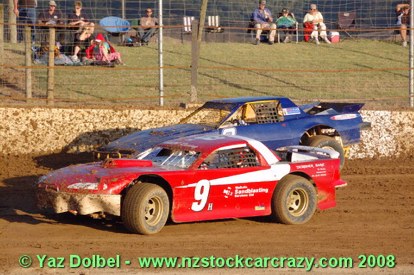 On Track Action Race 1
Heat 2 and I was off grid 8. I had a great start and was holding my own in 8th spot comfortably, but got a bit keen coming out of turn 4 and spun up. I was furious with myself, but carried on at the rear of the field. Caught up easily and was having a great tussle with 75A Craig Duthie when the steering went very heavy all of a sudden. Turned in to turn 1 OK and drifted wide coming out of turn two, giving the wall a clip with my rear end. Obviously something had gone wrong with the car so I pulled in field. I got the infield crew to have a quick check around the car, they gave me the thumbs up so I rejoined the race. Unfortunately the same thing happened again, so I pulled infield and stayed there. Once back in the pits I found that the top a-arm mount had snapped off the tower. This was due to the rough track surface.
All in all a great nights racing. I will now take this opportunity to take my diff out, have it widened 3" on the rh side and all squared up again. All in preparation for the North Island Champs at Huntly on the 15th & 16th of February.
See you there...