25 November 2007, Kihikihi

MOTOR PREPS - KIHIKIHI EARLY BIRD SALOON SERIES

Well,
Received an SOS call from Rossco Cresswell, 77K, to race at Kihikihi in the above event, as most of the regulars were down south in the NI vs SI Saloon Series.
Was more than happy to assist as I was dead keen to get behind the wheel after watching Greg Powell go so well in the 9h Saloon last weekend at Huntly.
On that note, a huge thanks to Greg for his contributions toward getting the 9H Saloon really going well.
Unfortunately only 6 cars made it Kihikihi, 5K Graeme Brockelsby, 77K Rossco Cresswell, 69K Mike Wilson, 69M Jeff Baron, 72R Andre Rumney and myself.
Race 1.
Drew grid 5 and with a good looking track surface I managed to pass 77K Rossco early and move up to 4th. Unfortunately I got a little messy the next turn and Rossco regained his place. By this time the track had slicked off and the rest of the race was "follow the leader". All in all a good result. Finished in 5th place. (2 Points)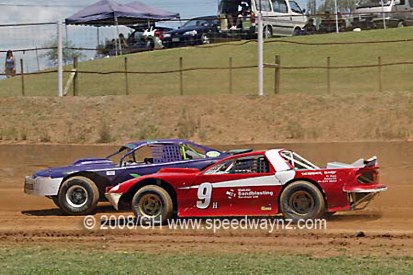 Race 2.
This time on Grid 3, behind Rossco. The start was quick and I settled into 3rd spot behind Rossco & 69M Jeff Baron. Jeff made an uncharacteristic mistake allowing me to pass on the inside and move into 2nd spot. Again the track was slick and I settled into 2nd place, with 69K Mike Wilson breathing down my neck for 9 laps. Man was I stoked with a 2nd place. (5 Points)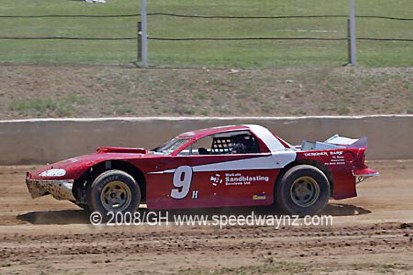 Race 3.
Off pole with Mike Wilson on 2. A very fast start saw Mike Wilson take the lead in turn 1 with myself chasing hard in 2nd. Unfortunately 5K Graeme Brockelsby hit the wall coming out of turn 2 meaning a restart. Unfortunately Mike Wilson didn't make the restart with a flat left rear. I was surprised to find the green flag come out as I was expecting another lap to re-grid and was almost passed by 77K Rossco. I lead for 5 laps until 69K Mike Wilson rejoined the race. I tried a pass in the pit bend, which was a huge mistake as I ended up wide allowing Rossco to slip underneath for the win. I was still stoked with another 2nd place. (5 Points)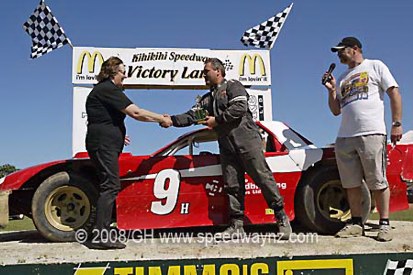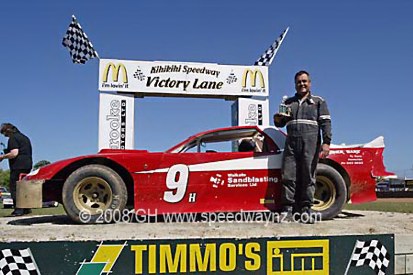 All in all, a great days racing and my very first Trophy.
I AM STOKED!!!!!!!!!!!!!!
Thanks to all my sponsors, yet again.
Final Results: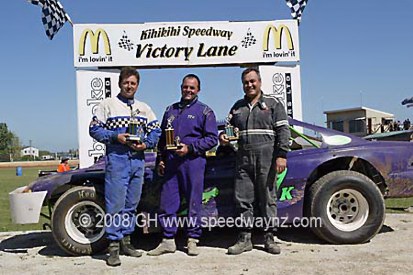 1st - 77K Rossco Cresswell (15 Points)
2nd - 69K Mike Wilson (13 Points)
3rd - 9H Nigel Wilton (12 Points)