27 October 2007, Huntly

FIREWORKS SPECTACULAR

Well,
I haven't been this excited about racing since I first brought out the new 9H Camaro Saloon in 2002.
When I first started building this car it had all the latest gear in it, but rule changes along the way have meant I was now way behind in technology. Accordingly, after only getting one race last season, I decided to upgrade the entire suspension in the car and have spent hours and hours and a fair amount of mine & sponsor's money on that very upgrade.
So off to the track we went, after completing the upgrade at 12.30pm and minus my left hand side door panel, which had mysteriously disappeared from the fence behind my garage. I thought that my side panel had been pinched, but that was not going to dull my level of excitement.
Upon arriving at Huntly Placemakers Speedway I was gob smacked, to say the least, at the number of race vehicles in the pits. It turned out that we had over 140 competitors ready to do battle on track at our facility, and do battle they did!
17 Saloons were on show and I promptly opted for a rear of the field start in all races as I hadn't raced for a long time and had no idea what the alterations would do for the car's handling.
We were race 4 and the track was looking mint, although still a little greasy.
I was starting on Grid 16 and the plan was to basically cruise at the rear and get some laps under my belt. The car performed way better than I had expected and was a considerable pleasure to drive. My fastest lap was just over 16 sec's and I wasn't even really trying, which is a vast improvement on the past.
The car was turning in nicely, as promised by Jim Carlisle (used his jig to make alterations to front stub axles), and when I hit the accelerator the car didn't want to spin out or push, but rather gently stepped out in the rear allowing a smooth, quick entry and exit from the turns with the power on. This was most pleasing!!!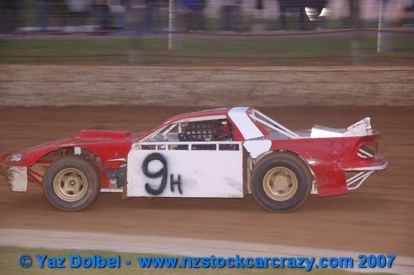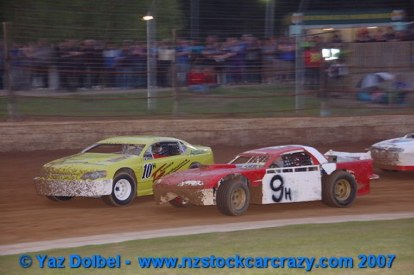 Looking ugly without a side panel, but at least I made it to the track...
Thought about passing 27H Larry Edmondson on more than one occasion, but decided against it as I just wanted to keep practicing at the rear of the field. Unfortunately this decision proved to be my downfall for the night as I was unceremoniously hit in the drivers door by 75M Michelle Wymer, (at this point I considered how grateful I was that my door panel was not there). This impact forced me wide into the path of 112R Mel Hills who couldn't avoid hitting my right front wheel, breaking the suspension and wrecking my brand new Afco race shock! This was most annoying and very, very, frustrating as Michelle has enough skill to not need to barge her way through the field. I was able to finish the race and, after assessing the damage in the pits, put the car on the trailer.
Thankfully I wasn't involved in the major prang in race 2 because I was out for the night.
All in all, even given the minor damage received, I am very, very happy with the way the car performed and am looking forward to an exciting race season ahead, especially with Saloons having their very first NZ Championship this year at Waikaraka Park.
See you at Huntly on the 10th of November and, as always, a big thank you to my sponsor's.
P.S. A few people suggested that my side panel may have blown away in the high winds we have recently experienced. After checking my neighbours house I found my side panel, undamaged, tucked in behind the shrubs on their side of the fence that the panel had been attached to. I am now one very happy chappy.