31 March 2007, Huntly

ALEX GILLAN MEMORIAL STOCKCAR EVENT

Well,
What a fantastic nights racing. I have to take my hat off to those guys driving Stockcars as it is hard work, especially keeping an eye out for everyone who wants to serve you up a hiding.
Thanks a heap to Mark Powell for his help in the pits and words of "encouragement' before each race.
It is fair to say I was very nervous and I was also fully aware that Erin's 63H Stockcar would have a huge bulls-eye on it, as I was the one driving... lol
Race 1:
The highlight of this first race was rolling 1 car and almost rolling another. The unfortunate victim of the roll over being 4H Jim Allison. Sorry Mate!!
I ended up on the infield with a flat right rear tyre and a stuffed left front tyre. But the smile I had was pretty huge!
The photo's below are wicked and thanks to Gary from
NZ Stockcar Crazy
for the pic's. (
Some images are dark due to the flash not cycling quick enough)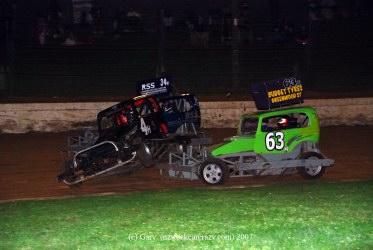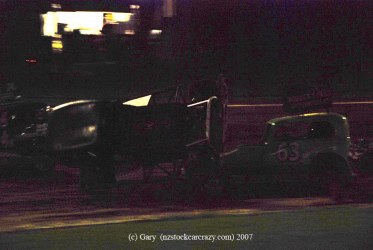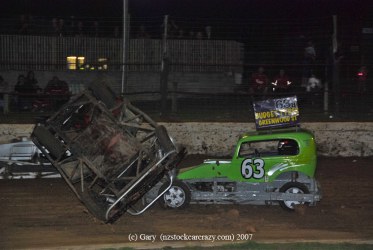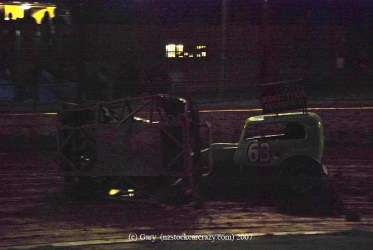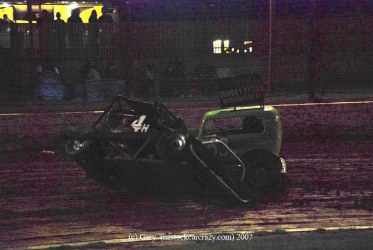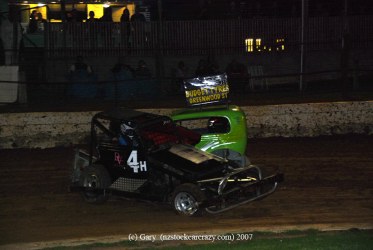 Race 2:
Let's just say I was more nervous than the last race, after what had happened, and I wasn't disappointed as 88H Justin Hutchby, 55H Turtle & 34H Anton Leek showed me what stock car racing was all about. The wall is very, very hard and I was taken there regularly by 88H Justin Hutchby, who I could never find to hit, although he found me regularly!!!! The highlight for me, in this race was twofold, 1. A ride down the wall with 88H Justin Hutchby and being showered with sparks and 2. Finishing the race!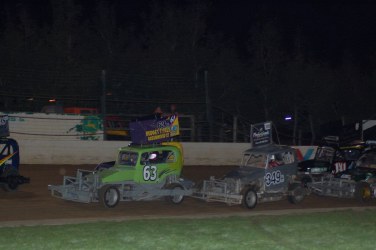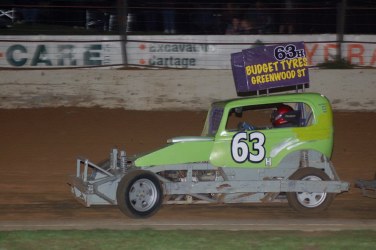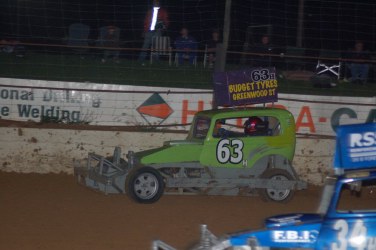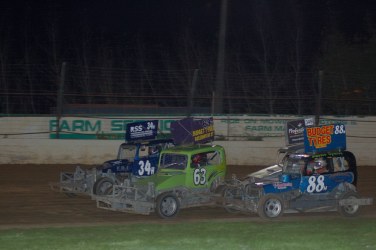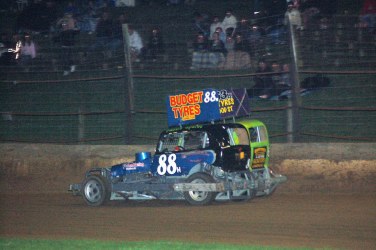 Race 3:
More of the same and by this time I was just buzzing to the max. In this race I did a bit more hitting and was gaining in confidence until 55H Turtle managed to reverse spin me on the straight...grrr Again finishing the race and then driving the car on to the trailer was a thrill, especially after all the bashing and crashing. I loved it!!!!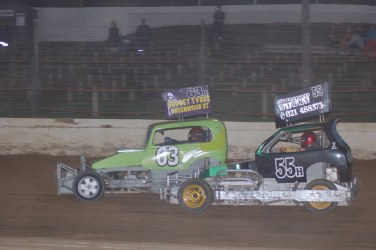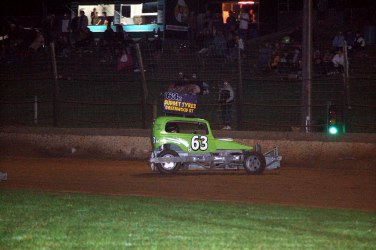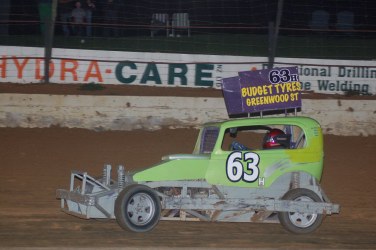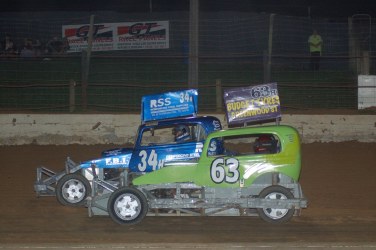 A huge thank you to Erin Harris for the use of his car and I hope to have another go next season.
The end of the night was capped off with a drive in 28H Glen Drabble's Super Stock. Words can not describe the buzz (and appreciation) that that opportunity gave me. The speed and power of a Saloon in a Stock car is just a wicked, wicked combination!
Me in 28H Super Stock
(Video best viewed by reducing screen image)
The above video was taken by my son Ian Wilton on his cell phone, so picture not that great, but the sounds are awesome.