1 October 2005 to 30 September 2006

28 October 2005
Sorry for the lack of updates...
A new job and a lot less time to work on the car has slowed me down a bit, but I have now finished the steering, made a new front bumper which is removable and drove the car out of the garage. Unfortunately the brakes weren't too flash (read that as nonexistent) so decided to re-bleed the brake system. Both front bleed nipples snapped off as they had seized in the caliper. Got one out with the help of a neighbour, but the other caliper was buggered.
Found a new caliper in New Plymouth and it arrived tonight only to be a different fitting and the thread was stripped.... Grrrrrrr
So tomorrow will be a mad rush to fix the new caliper and bleed up the brakes.
Photo's soon.
See you at Huntly Placemakers Speedway on Saturday night either way...
14 November 2005
Car is finished and sitting in the garage as I still have no trailer.
Approached Hirequip for trailer sponsorship, but to say there communication skills are lacking, is a major understatement. Application was completed and given to the Te Rapa Branch Manager, waited 2 or 3 weeks & never heard a thing. Rang Head Office and spoke to one of the "Sponsorship Team" and it appears that my application had been lost or never received by Head Office. He said there "budget" was overspent, but that someone would contact me within a couple of days to let me know if they could help or not... That was 2 weeks ago... Oh well, what more can I say, I guess the answer is no and if they read this, I guess I can kiss that sponsorship deal good-bye from ever happening... lol.
On a positive note, racing has been spectacular at Huntly Placemakers Speedway and I had an enjoyable afternoon helping 98H Greg Powell today at Kihikihi. They have certainly done a lot of work at their facility also, with the pits a major improvement and the new wall at the rodeo end looks solid!
See you at a track somewhere soon...
17 December 2005
It is pouring with rain outside and so I find myself with time to do an update.
Last weekend saw me finally get to Huntly Placemakers Speedway for a run in the car thanks to the generosity of
Porry
, who kindly lent me his work trailer for the night. The new steering quickener was great and for a bit more info about my racing go to the
newsletter
page.
As for the rest of the night, man those Stockcar Drivers are Nuts and we love them for it. I absolutely loved it on the Saturday night and reping for the green group on Friday was equally as pleasant. They are a great bunch of guys and there was no drama all night.
Oh well I am now looking forward to the Christmas/New Year break as I am a little speedwayed out!
3 January 2006
Well, what can I say about 2006 so far?
BLOODY FANTASTIC!!!!!!!!!!
I was having an exceptionally good night in Cambridge for New Years when I received a call from Greg Powell, of
Waikato Sandblasting
and 98H Saloon fame, advising he had blown his motor in the Auckland round of the
Telstra DHL Salooncar Speedweek Series
. It took me all of a milli-second to offer him my motor for the final round at Rotorua on New Years Day.
Go to the
Newsletter
page to read all about our day...
28 January 2006
28 February 2006
Another good nights racing at Huntly. Unfortunately I have now run out of spare bottom arms, so will have to do some work and make some new ones.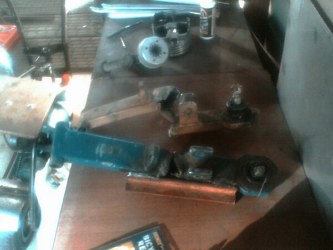 Time to make some new bottom arms.
6 August 2006
Hard to believe it has been almost 6 months since my last up-date.
To be totally honest, I didn't do much racing last season and had, pretty much, lost interest in the website as I didn't have a lot to tell you about.
After the last meeting smashfest at Huntly I repaired the damage and took the car over to Huntly for the Winter Ministock Meet on 21 May 2006. We were the only Saloon there and I only wanted to have a quick run to see if the repairs had worked. It is fair to say the car went really well, but for some reason I just can't stop her spinning if you go too hard in the corners.
Gavin Cornish had indicated a desire to get into Saloons after a successful time in the Production Saloon Class, so I gave him the car to race with the Productions. His instructions/rules were: 1) NOT to pass the productions and 2) to have fun. Starting half a lap down, it only took half a lap to break the first rule and he went on to pass all the Productions comfortably and the beaming smile on his face afterwards was a sight to see. Next race we started him in front of the Production Saloons to allow him to get some serious pace going. Again he passed all the productions with just 1 lap to go and coming in to the home straight the right rear bird cage arm gave way. This was exactly what happened to me in the Waikato Champs. Gavin did the right thing and pulled in field. I am sure that Gavin enjoyed his day.
Obviously this alloy arm is a weak link and is to be replaced with a steel rod. All that is left to do is get the weather right and the first practice session to arrive and we will be back at it again.
A big thank you to Andrew Mowbrey whose trailer we used and welcome to the NLW Racing team for next season.