18 February 2006, Huntly

WAIKATO PRODUCTION SALOON & MINISPRINT CHAMPIONSHIP'S

Well,
10 Saloons in the pit's along with 2 Super Saloons meant racing would be good tonight. Red had watered the track well meaning a slippery first race, but an awesome track for the rest of the night.
I drew grid 5 in the first heat and I have to say that I HATE a wet track, but was happy to finish the race in 9th place, with no damage. The next job was cleaning out the clay from under the car's body! I would estimate that there must have been a good 100 kilo's of clay removed from the car and when the call for heat 2 was made, I still had the body in bits cleaning it!
A rapid reconstruction job and a quick tyre pressure check and away we went for heat 2. I was on grid 10, at the rear of the field for this race, but was looking forward to a drivey race surface. I wasn't disappointed. I decided to try something in this race and that was to drive the "Skinny Line" on the outside and see how I would cope and of course, see how the car went out wide. Well, I was ecstatic with how the car went and by the end of lap 2 I was up into 6th place and the car was going well. I then had an awesome, race within a race, with 55H Lance Slater in his wicked new Cortina. A "racing incident" meant the yellow's came on and the group bunched up again. At this stage I was in 5th place. On the restart I chased hard and had another battle with 9H Super Saloon driven by Nigel Brown for the next couple of lap's, unfortunately on the last lap, I ended up a little too wide, in the marbles, and rode the back straight wall, finally finishing the race parked in the wall on turn 4.
A disappointing end to a great race, but I was absolutely rapt with how the Car and I were going. Investing in a steering quickener has certainly paid off and as I do more lap's and gain the confidence needed to peddle this car to it's maximum, the results will just keep coming. It was also pleasing to see that the bit's that were supposed to break, broke and the damage was very minimal. A late night in the pit's welding in a temp suspension so I could load up the car means that I have now used up all my spare suspension components, so will have to make some new ones up and get back out racing as soon as I can.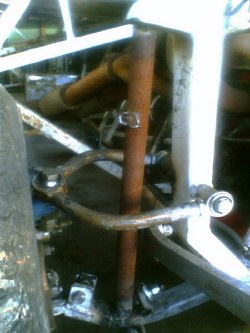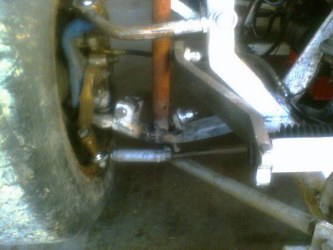 The end result of 'track' repairs.
See you at Huntly Placemakers Speedway...