10 December 2005, Huntly

NORTH ISLAND STOCKCAR CHAMP'S

Well,
What a great feeling it was to get the car out to the track finally and have my daughter and her boyfriend there to crew for me.
A big THANK YOU TO PORRY, for the use of his work trailer.
The pits were absolutely jam packed with cars and room was at a premium. Rumour had it we would end up with 20 cars as Bay Park had cancelled, but we ended up with only 8 Saloons and 1 Super Saloon.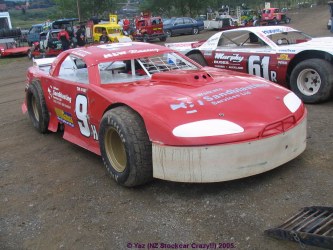 I didn't take my transmitter as it was dead flat, so my plan was to start about a 1/4 lap down off the rear of the field (ROF) as I just wanted to test out the new steering quickener. Thankfully I was able to do this and went out for our first race. The track was still a little wet so caution was uppermost in my mind.
It is fair to say I was absolutely rapt with the new steering. It is heavier than before, but the trade off is that the car is much more responsive and easier to drive. Gotta be happy with that. Had no problem catching up and sitting on the back of the pack. The car felt good and there is plenty of power there under the bonnet.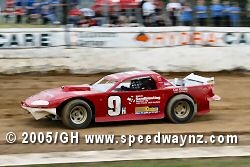 Race 2 and I was checking tyre pressures when I heard the unmistakable hissing sound, from behind my right front tyre, that meant I had a puncture. I took the tyre off and found lots of little cuts with one right through the tyre wall. It appears that my bad luck was to continue on this season as it was found that the right front tyre had managed to somehow touch the cut end of the cable ties, used to hold the coil over cap in place, and effectively sliced the tyre like a razor blade.
Thankfully the camaraderie within the Saloon ranks meant I was able to use a RF. wheel from Marc Flemings (61R) car and so I made it out for race 3. Pretty much the same as the first race except that the track had slicked off a bit and the different offset on Marc's wheel meant that the car felt a little different, but all in all the car went well again.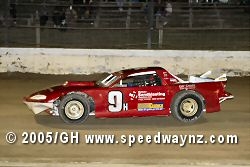 Overall result?
2 Races, no damage to myself or others, steering quickener a great investment and I had a blast.
Thanks again to Porry for the trailer and Greg & Mark from
Waikato Sandblasters
who are the best sponsors a guy could have.