Kiss Concert Review,

Adelaide - 1 April 2001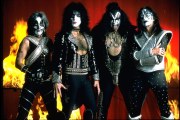 I just about needed an ambulance after the concert! My heart was racing, I was all flushed
and
MY EARS WERE STILL RINGING FOUR DAYS LATER!!!
Man what a concert. Below is a review of the Adelaide Concert from an Adelaide Newspaper on 4 April 2001.
Enjoy!!!