1 March 1998, Kihikihi Speedway


NEWSLETTER
Issue No: 10
Well,
1st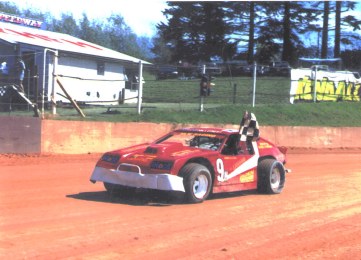 YES!
I HAVE FINALLY DONE IT!!
I HAVE WON MY FIRST RACE!!!
Last weekend the NLW Racing Team were invited to attend a Ltd Saloon Invitation Meeting at McDonald's Kihikihi Speedway.
There were 20 cars invited form Kihikihi, Huntly, Rotorua and Auckland Club's, of which 14 actually made it out in the first race.
I drew 4th grid in the first race and was running in 6th place when I was taken out by a Rotorua car, blowing my left rear tyre. I obviously did not finish this race. After a quick wheel change I was out in the second race. On reverse grids, I was in grid position 10. This race was a lot cleaner, I finished 8th. The third championship race saw me on grid 10 again. I finished 6th.
I finished 9th overall in the championship. If not for a DNF in the first race, I would have placed a lot higher, overall.
Then to the 4th, and the Feature Race of the day. I drew grid 4. I got a great start and was sitting in 2nd place on the first turn. The car in front was, ironically, the car that took me out in the first race. I followed him for a couple of laps, hoping he would make a mistake. He went wide on the rodeo bend allowing me to catch right up, hoping he would make the same mistake again. He duly obliged on the clubrooms bend, same lap, which allowed me to shoot through on the inside. From there I had to stay clean & tidy as I had an Auckland car right behind me hoping I would make the same mistake. Those last 6 laps took forever and I have never been so nervous when the white flag came out, telling me there was only one lap to go. When the chequered flag fell I was so excited I just screamed!!!
Finally, I HAD WON MY FIRST RACE!!!
Sorry about the blow by blow account of the last race, but hey, I'm excited, OK!!!!
It is especially pleasing to achieve the win in my current car. I now look forward, with a vengeance, to the completion of my new car. Progress is good with my chassis almost complete. Special thanks to Barry Tidd and an 'anonymous welder' who are both doing a great job.
Thank you all for your continued support. Without it I couldn't have been a WINNER!!!
Cheers
Nigel Wilton
9H LTD SALOON