17 February 1998, Huntly Speedway


WAIKATO LTD SALOON CHAMPIONSHIP
NEWSLETTER
Issue No: 9
Well,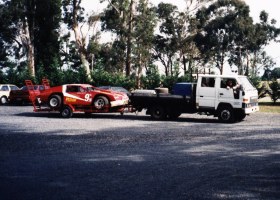 On The Way to The Champs From
My Sisters Wedding.
YAHOO!!!
After a very disappointing last couple of months, where I have been plagued with mechanical breakdowns, I have some great news to share.
Last Saturday night (14/02/98) Huntly staged the Waikato Ltd Saloon Championship.
There were 42 cars entered. As big as the Auckland Nationals held recently). Cars were split into 2 groups of 21. Two heats of 12 laps were to be run for each group, with the top 10 of each group qualifying for the Waikato Champ's.
I drew grid 7 in the first heat. After lap 1 I knew I had finally solved all the cars problems. I was pipped on the line for 8th place after being "touched" by another car in the last corner. This saw me sideways down the final straight eventually crossing the line backwards in 9th place!
With a reverse grid in the second heat, I started in grid 15. This race was to be the best of my career, so far, and my best placing at Huntly, again so far. I finished in 8th place!
Accordingly, I qualified for the Championship rounds.
MAN, WAS I STOKED!!!!!
Unfortunately, an incident in the first race of the Champs meant I was unable to finish, due to steering problems. I went out in the second race, only because I had qualified and wanted to complete at least one race. I finished at the rear of the field, due entirely to the fact that I had very limited steering. It also meant that I collected points in that race, meaning I was not last in the Champ's.
To date this is my greatest achievement yet, as this is the first major event I have qualified for. Considering there were 42 cars, I am very, very pleased with that effort.
It is also pleasing to write this newsletter with some GOOD NEWS.
As some of you may already know, I am building a brand new car (Chev Camaro) for next season. Special thanks to Barry Tidd for his future assistance in this.
As you've probably gathered I am still very excited about last Saturday night and it is all thanks to you, my sponsors, for enabling me to race.
A BIG THANK YOU TO YOU ALL.
Cheers,
Nigel Wilton
9H LTD SALOON